We ourselves wear sunglasses consistently when driving or spending time outdoors. But have you ever thought about sunglasses for your children?
Just as we need proper UV protection for our eyes, so do our kids, as they are just as much at risk.
Then again, the lovely picture and bright colored superhero sunglasses may look appealing, but are they actually doing anything for the safety of your kid's eyes.
In this article, I want to help you find the best sunglasses for kids that are fun to wear and serve the purpose they are intended for.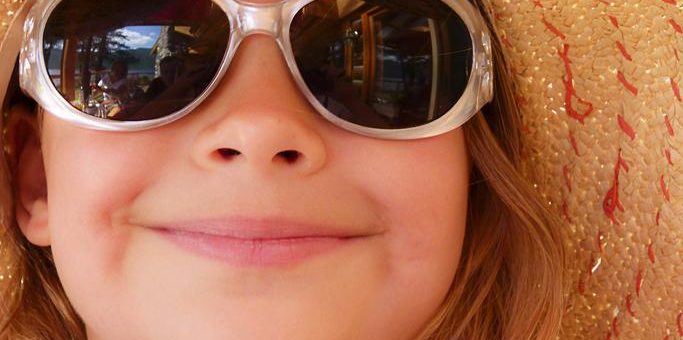 ---
Why Kids Should Wear Sunglasses
But first, let me give you a few practical facts on why it is so important for your kids to wear proper sunglasses;
The retina of a child's eye is more at risk than that of an adult because the lens of a kid's eye can transmit around 70 percent more UV than an adult eye.
When your child's eyes suffer sunburn, the damage will be there, but they are less likely to feel the sunburn-like adults do.
Damage to the lens of your eyes is permanent. The cells of the lens of your eyes will never be replaced or renewed, and the lens cannot repair itself at all.
Kids under ten years of age are at large risk of skin and eye damage because their eyes and skin are much more fragile.
Sunburned eyes have long-term effects and can lead to issues such as cataracts, pterygium and macular degeneration, and melanomas.
Very bright sunlight that reflects off sand, pavements, snow, or water may cause immediate damage to the corner of a child's eyes.
A Child spends much more time outdoors than an adult, and therefore, their skin and eyes are much more at risk.
proper sunglasses for children will offer 100% UV protection and can still be fun and cool to wear.
---
Choosing Sunglasses for Children
When choosing the best sunglasses for children, there are a few basic considerations you will need to adhere to;
100% UV Blocking – A child's sunglasses need to have the highest UV blocking that is available. You should start using protective sunglasses from at least three years of age. Choose sunglasses that offer 100% UV protection, and look for UVA and UVB protection.
Good Coverage – The sunglasses should cover a large portion of the eyes and delicate skin around the eyes of your child. Make sure that the lenses are large enough to offer proper coverage, and always use sunscreen on your child's face.
Durability – Let us face it, children are active and pretty rough on everything, including their new shades. So opt for sunglasses that can take the punch. Look for impact and scratch-resistant sunglasses, and opt for materials that are more durable such as plastic and carbonates. Lenses should never be glass, and scratch-resistant lenses are ideal.
Give Your Child a Choice – When you have found the perfect brand or a few options, let your child choose their favorite. Children may be reluctant to wear sunglasses, but allowing them to choose the colors and type that they like out of a few options will make them more eager to wear the sunglasses.
---
Features of a Good Pair of Sunglasses for Kids
Fit – Kids sunglasses need to be chosen to fit their specific face shape, and also be age appropriate. As you will see from our review list there are quite a few fit and shape options, as well as sizes for baby's, toddlers, young and older children.
Frame Type – As with the adult sunglasses options, there are also different types of frames for children, such as round, square, aviator, and wayfarer shapes.
Materials – Sunglasses for children can consist of materials such as plastic, metal, rubber, or nylon for the frame. The lens could be plastic, polycarbonate, or other materials. I would advise not getting sunglasses with a glass frame for children.
Options – When it comes to sunglasses for children there are usually some size or age-specific options available. Furthermore, you will get color options in the frame and lenses depending on the specific brand and model.
---
Reviews: The Best Sunglasses for Kids
Listed below is a range of some of the best available sunglasses for children of all ages;
---
1
The Babiators come in sizes for toddlers and children.
They have a durable rubber frame and a mirrored lens that is non-polarized.
The UV 400 lenses offer 100% UVA and UVB protection which is exactly what we are looking for.
The flexible rubber frame is guaranteed to be durable and offers a more forming fit.
As you can see, there are more colors available so your child can choose their favorite.
---
2
The Tuga is ideal for smaller children as it comes in sizes from 0-5 years.
It has a durable plastic frame and polycarbonate lenses.
The lenses will block 100% of UVA and UVB rays effectively.
The set includes the sunglasses with two adjustable neoprene straps for fitting and a lightweight matching case for the sunglasses with zip closure.
You can adjust the straps as your child grows, which is a great convenience.
---
3
Nothing better than a trusted pair of Ray-bans for your child.
They have Nylon construction with a plastic frame and standard plastic lenses.
The lenses are non-polarized and offer 100% UV protection, which is ideal.
You also get a handy carry case included with your child's Ray-bans.
The colors available make them fun and can include your child in the decision process.
---
4
the Knockaround Premium sunglasses for kids come in a few color options that are ideal for older children.
They are plastic with a polycarbonate lens that offers UV 400 protection.
The lenses also fully impact resistant.
With this purchase, you likewise get a carry case included.
---
5
colors and lens colors
The Julbo Reach range for kids comes in fun colors for your child to choose from.
They are Plastic with polycarbonate lenses that are impact resistant.
The fit is ergonomic for proper grip on the face and head that will not slip off.
The Julbo range comes with a lifetime warranty for durability and quality.
They are also 100% UV protecting.
---
6
From X Loop, we have UV 400 non-polarized sunglasses for kids in all sizes and many color options.
These are sporty sunglasses for children of ages 3 to 10 years.
They have a plastic frame and plastic lenses that are non-polarized.
The sunglasses are a premium UV 400 protective design against UVA and UVB rays.
They are very lightweight and durable, ideal for sports and activities.
There are also more colors available from which your child can choose.
---
Index Table: Top Rated Sunglasses for Kids
---
---