People with an oval-shaped face will look at their best with sunglasses with a square or rectangular frame and lenses.
However, a vintage pair of round-shaped sunglasses can also do the trick.
In this article, we will look at some of your most prominent options when it comes to the best sunglasses for oval faces.

---
Sunglasses Shapes for Oval Faces
When it comes to sunglasses that work well with an oval-shaped face, you need to consider the shapes and designs first;
Aviator – Aviator sunglasses are a classic design, and their symmetric and streamlined shape will complement your already proportionate facial lines.
Rectangular – Rectangular shaped sunglasses are symmetric and streamlined to flatter oval shaped faces.
Cat-Eye – Something a bot more bold and daring si the Cats Eye shaped sunglasses ideal for oval-shaped faces to pull off.
Square – square lines and shapes in sunglasses will complement the proportionate and oval face lines.
Ladies, you might be pleasantly surprised by the cat-eye or wayfarer shape if you've never tried them. These look great on those of you with high cheekbones and a narrow chin.
Gentlemen, how about something square or a nice pair of wayfarer sunglasses that have some bold colors to make your eyes and face shape pop?
Since everyone has different facial features, hairlines, and other details that affect how the sunglasses look on them, these will help you narrow down the options.
---
Sunglasses for Oval Faces Coloring
So, now that you have the shape picked out, it's time to think about color.
We're not just referring to the color of the frames, either. We're talking about that and your own coloring: hair color, skin tone, and eye color. All of these things will make or break the pair of sunglasses you choose
Hair Color – Here are some great frame colors to try based on the color of your hair:

Warm Blond – Tortoise.
Cool Blond – Dark Blue, Light Pink.
Warm Brown- Coffee/Caramel, Olive Green, Red.
Cool Brown – Black, same as warm brown hair color.
Redhead – Ivory, Black, Olive Green, Military Green.
Black – Cool Blue, Tortoise, Olive Green.
Grey – Red, Black, or other bold colors.
Eye Color – So, if your hair color didn't help you decide which look best on you, consider your eye color :
Blue – Blue, Grey, Coffee/Caramel colors.
Green – Gold, Brown, Pink, or Purple.
Hazel – Green, Grey, Amber.
Brown – Olive Green, Tortoise, Dark Earth Tones.
Skin Tone -There's just one more thing that will help you choose the right pair for your oval-shaped face: your skin tone.
Cool Skin Tones – Blue, Pink, Green, Purple, Black, or Tortoise.
Warm Skin Tones – Brown, Orange, Tan, Gold, Olive Green, Red, Yellow, Ivory.
---
Features of Good Sunglasses for Oval Face Shapes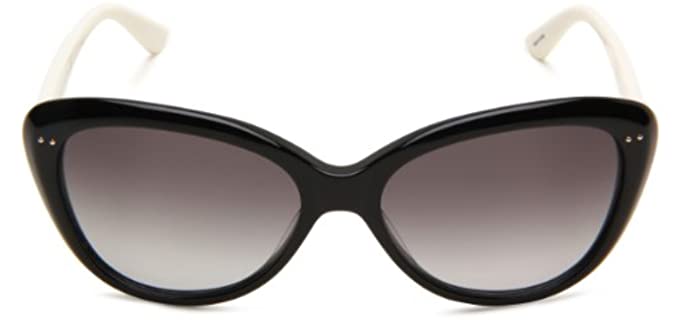 Materials – The frames of most sunglasses usually consist of either metal, plastic, composite materails and wood or bamboo in some modesl. The lenses will be plastic, compiste, polycarbonate or glass.
Designs and Shapes – Designs and shapes ideal for an oval face are small and large-sized rectangular or square shapes, Aviator designs, and Cats Eye designs.
Protection – Most sunglasses have a protective coating of 100% Uv protection that protects you against UVA and UVB rays. Some lenses are polarized, while others are non-Polarized.
---
Reviews: Best Sunglasses for Oval Faces
These are some of the best styles and models of sunglasses that are ideal for an oval-shaped face;
---
1
Kate Spade's Angelique Cat- sunglasses fab, whether you're on the streets of New York or the streets of small-town U.S.A.
The cat-eye isn't too exaggerated, which makes them great for casual wear.
They add a touch of class to your wardrobe if you want to avoid getting something too sporty. We'd wear them on more formal occasions, too, especially in the pink color!
Lenses: 100% UV Protection Coating, Non-Polarized
They come in six different colors if you're looking for something other than the one we suggested above!
These will fit great as small sunglasses for women.
| Rating Category | Weight % | Score |
| --- | --- | --- |
| Design | 25% | 100 |
| Frame | 20% | 100 |
| Protection | 20% | 100 |
| Colors | 15% | 90 |
| Price | 20% | 95 |
| Total Score | 100% | 97.5 |
---
2
Guys, if you're looking for a decent pair of square-shaped sunglasses, Oakley makes these Holbrooks that are worth a try.
They're lightweight and tough, which means they can take the hits that some of those other cheap sunglasses can't.
Lenses: Filter out 100% of UVA, UVB, and UVC rays; Polarized; Impact protection
These are available in seven different colors. We thought the light green and blue would be great for any of your blond gentlemen reading (something clean and fresh for summer).
If you don't like them, check out the other six colors!
| Rating Category | Weight % | Score |
| --- | --- | --- |
| Design | 25% | 100 |
| Frame | 20% | 100 |
| Protection | 20% | 100 |
| Colors | 15% | 95 |
| Price | 20% | 90 |
| Total Score | 100% | 97.25 |
---
3
Ladies looking for Aviator sunglasses will love these Ralph Laurens!
Many Aviators are too big for a woman's face, but these are designed with women in mind. They're proportionate and comfortable, better suited to women's faces than Ray-Bans are.
Lenses: 100% UV Protection Coating, Non-Polarized
Five different colors to choose from if you don't like the cool silver and blue above. We highly recommend them for those of you with the oval face shape and love for Aviators!
| Rating Category | Weight % | Score |
| --- | --- | --- |
| Design | 25% | 100 |
| Frame | 20% | 100 |
| Protection | 20% | 95 |
| Colors | 15% | 85 |
| Price | 20% | 95 |
| Total Score | 100% | 95.75 |
---
4
Ray-Ban is one of the top brands in sunglasses that usually comes to mind first.
Their Original Wayfarer sunglasses have the perfect shape and design for Oval face types.
The frame is durable plastic, and the glass lenses are not polarized.
They offered excellent UV protection and helped to reduce eyestrain.
You can likewise select from multiple frames and lens colors in this range.
---
5
These classic round design sunglasses are perfect t complement an oval-shaped face.
They have a metal frame and round lenses that are gradient design and non-polarized.
The lenses come in a variety of fun and funky color options.
The Lense also provides excellent UVA and UVB protection.
---
6
From Treehut, we have a more natural and earth-friendly bamboo range.
They have a square design and a Wayfarer style.
The glasses have a bamboo and plastic frame as well as a lense with a scratch-resistant coating.
The lenses are polarized and offer excellent protection.
You can get the frame as well as the lens in different color varieties.
---
7
Rayban the Rb2180 has round lens shapes and a colorful frame ideal for an oval face shape.
Another Excellent addition from Ray-ban is their Round Sunglasses to complement an oval-shaped face.
They come in a 49 mm and a 51 mm size option that you can choose from, as well as more color options.
The lenses are non-polarized and lightweight.
The frame is a durable acetate frame in the Wayfarer design.
---
8
The Feisedy Cats Eye sunglasses have the perfect design to compliment an oval face shape.
The Sunglasses have a plastic frame and a plastic, non-polarized lens.
The lenses are 53mm by 28 mm, so larger in size.
They offer unique UV400 technology in UVB and UVA protection.
There are likewise many color options available in this stunning vintage design.
---
9
Under Armour, a trusted outdoor and sports brand, we have their UA force design for oval-shaped faces.
The Titanium sunglasses have polycarbonate lenses and a plastic frame.
Some color options are available, and the size is a large 61 mm in the lens.
The Armour sight technology in the lens delivers up to 20% more undistorted peripheral vision, and they are stronger than other polycarbonate lenses.
The three-point grip design ensures a much more comfortable and secure fit.
---
10
The Dollger Rectangular shape sunglasses are also ideal for an oval face.
They have a composite material frame and lenses that are non-polarized.
The size is 50mm by 40mm for the lenses in a square design.
The lenses will block UVA and UVB rays optimally for better protection.
What is more, the lenses are also shatterproof in design.
---
Index Table: Top Rated Sunglasses for an Oval Face
---
---