So you've booked a church, sent out the invites, and chosen your decor for your quinceanera party.
You are excited and also a little nervous about being the belle of the ball at this once-in-a-lifetime party in honor of your adulthood and independence.
To make the most of this special day, you'll need a dress that not only fits well and looks fabulous but is comfortable enough to wear all day.
If you're wondering where to start when it comes to shopping for your outfit, read on for a comprehensive overview of the best quinceanera dresses.
---
How to Choose a Look for Your Quinceanera Party
Your special day is just as important as your wedding day, so you'll want to treat the dres's purchase just as carefully—you only turn 15 once, so you may as well make it count.
Here are some things you'll want to consider before buying your dress:
Fabric – Tulle, lace, silk, satin and taffeta are all wonderfully feminine options for your quinceanera dress. Some can be itchy or uncomfortable on your skin, so be sure to buy the dress early and wear it around the house for a few hours before the big day.
Design – This is your night to shine like a princess, and you can choose whatever type of texture you like! If you want a puffy princess dress that's more dramatic than straight tulle, consider a more detailed texture like chiffon ruffles or rosettes for your skirt.
Color – Choose a few of your favorite colors, then try to find a dress that looks great with your skin tone. Jewel tones look great with almost any skin tone, while primary and neon colors create an eye-catching contrast on dark skin. When considering your color scheme, you may want to look into different colors' symbolism. For instance, white is the symbol of purity, red represents passion and energy, and green is often associated with growth and security.
---
How to Choose a Quinceanera Dress That Flatters Your Body Shape
Do you know what type of dres's cut best flatters your unique shape? Here are the basic body shapes and some suggestions on the most flattering dres's cuts.
Note: Knee-length and full-length dresses with a fitted or gathered waist and V-neck top tend to flatter most body shapes.

Pear Shape – Women with pear-shaped figured tend to have fuller thighs and hips and a smaller waist and shoulders. Most dresses will look good on you, and you may want to consider something that accentuates your small waist and curvy hips.
Apple Shape – Women who are apple-shaped tend to have a fuller belly and larger bust. Aim for dresses with V-necks and empire waists. A-line and sheath dresses will also work to create a sleeker silhouette.
Hourglass – People with hourglass figures typically have the same bust as they do hip measurements, with a small waist. They tend to look good in most dres's styles. Consider a mermaid cut dress to highlight your small waist.
Rectangle – If your waist, hips, and chest area are all about the same width, you probably are a rectangle. You may want to consider a dress with extra detail around the hips or bust to define your curves and add some shape.
---
How to Put on a Quinceanera Dress
In this video it shows you exactly how to put on a Quinceanara Dress;
---
Features of a Good Quinceanera Dress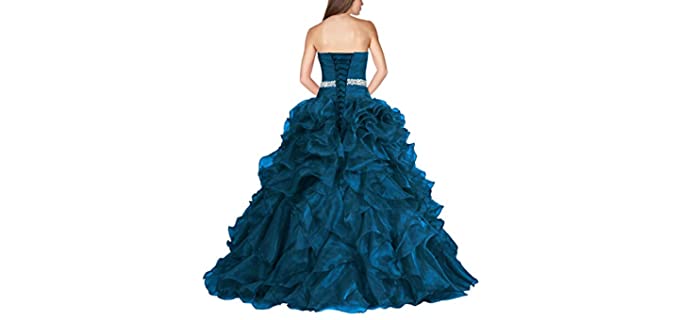 Materials – Most Quinceanera dresses and gowns consist of either satin, silk, chiffon, velvet or taffeta, organza, and tulle materials. However, there are more options today.
Technique and Decor – The Quinceanera Dress has an elaborately embroidered design with beads, rhinestones, and much sewing. The chiffon bottom is flowy and has many ruffles.
Options – Quinceanera dresses are available in many solid and some printed color options, usually very bright and colorful. They also come in plus and standard sizes for ladies.
---
How to Put on a Quinceanera Dress
---
Reviews: Best Quinceanera Dresses
Finally here are some of our favorite choices in Quinceanera dresses;
---
1
This is a quality imported dress.
The dress is ideal for dances and sweet sixteen parties.
It is available in many sizes, and you will need to refer to the size chart to get a proper fit.
The dress is available in more colors and plenty of sizes to choose from as needed.
The company is likewise willing to custom make a dress the color that you require.
---
2
This dress has a stunning corset closure design.
It is a tulle and quality satin dress with elegant lace appliques and scattered beads for decoration.
It is ideal for teenagers and women.
The dress is floor length with a ball gown design suitable for occasions such as prom, sweet sixteen, and Quinceanera.
It is of excellent quality and has fine details and constriction.
You can also get the dress in many vibrant colors.
---
3
The dress is an Organza design that is elegant and ideal for your Quinceanera and prom and other formal occasions.
It comes in many lovely bright and bold color options and more colors.
The dress has a sparkling bejeweled sash belt and a drawstring closer.
The corset is fully lined with bone and well crafted,
---
4
Another stunning design dress available in many bright and bold colors.
The dress has a drawstring closure and a translucent-style top decorated.
The skirt is flowing and elegant.
You can also requite for custom made sizes and colors in this dres's style.
---
5
This dress consist of two layers of chiffon with lace applique.
The dress is a stunning and feminine design that is perfect for you Quinceanera and other events that are more formal in nature.
The dress is available in many more color options and sizes.
As you will see, it is a more daring shorter length and a unique slip-on style that is easy and convenient to use.
---
6
A stunning wide ball gown that will have you feeling completely like the most beautiful princess at you, Quinceanera.
The dress has an off-shoulder design and Applique with organza.
It comes in many colors and more size options.
The dress is also quite affordable and should not break your budget.
As you can see, there is a soft lace back design that is a lace-up closure.
---
7
A stunning dress ideal for prom, Quinceanera, and many other formal events.
The dress is tulle and stain under a tulle design with an A-line fit and backless.
There are plenty of colors and size options available to you.
The dress has an embellished top with sequins and laces up the back.
---
8
Want to make a statement, then do not miss this show stopper in all its glory.
The dress is polyester and viscose with a zip closure.
It has many layers and 3D rose flower printed in the bodice embroidered for more elegance.
There are colors to choose from, and you should find the perfect fit, according to the size charts made available to you.
The dress is beautiful and formal in design, perfect for our Quinceanera.
---
9
This is another stunning ball gown with a strapless design.
It is a Tulle and lace fabric with many layers for the skirt and lace applique leading up to the bodice.
As you will see, there are much darker and bold colors available, all with the black basic lace applique.
The dress is customized for you, and rush orders may be available as you need.
---
10
This is a gorgeous gown available in many soft pastel colors.
The fit and design are ideal for a Quinceanera, prom, and other formal events.
The dress is organza fabric with many layers and a corset design bodice with a lace-up closure.
You will, however, need to check the size charts to get the perfect fit.
---
Index Table: Top Rated Quinceanera Dresses
---
---