The Maxi dress can flatter a wide variety of figures, from shorter legs and a petite frame to taller figures with more curves. The cut, the pattern, and the sleeves affect the dress's overall look and how it hangs on your body.
Not sure which are the best maxi dresses for your shape? We'll help you figure that out in our guide.
Check out the top 10 dresses for useful shopping tips and reviews of the three dresses that shouldn't be missing from your wardrobe.
---
How to Find a Maxi Dress for Your Shape
The best maxi dress is different for each person because the patterns, the colors, and the cut all need to go with your shape if it's going to work.
Here are a few tips to help you find the right one;
Sleeves – If you're not a fan of showing off your arms, then opt for a maxi dress with sleeves. Alternatively, you can pair a jacket with a sleeveless dress if you happen to like the pattern, cut, and colors of it.
Pear-Shape – Go for the empire waistline. The fitted bodice (the part of the dress just below the bust) will hug your waist and make it appear smaller, while the bottom of the dress will flare out naturally without letting your hips dominate your silhouette.
Extra Curvy – If you have an extra curvy shape, then you can also get away with the empire waist or a dress that has an elastic band that sits on the narrowest part of your waist. Again, the sleeve rule from above applies here, but both sleeveless and sleeved dresses would look good on your frame if you choose the right cut.
Large Bust – It's best to avoid strapless dresses or spaghetti straps. It would help if you had support for your bust and opt for a comfortable bra to provide it for you. Dresses with wider straps and a higher neckline will help you show off your curves comfortably.
Small BustDo the opposite of the large-busted figure and opt for something with a plunging neckline or ruching on the bodice to help make your bust appear a bit larger.
---
Choose the Right Shoes!
Forget the flip-flops, ladies. They may be useful at the beach, but for casual daily wear, opt for a stylish pair of sandals. For more formal occasions, heels will add a touch of class.
---
Features of a Good Maxi Dress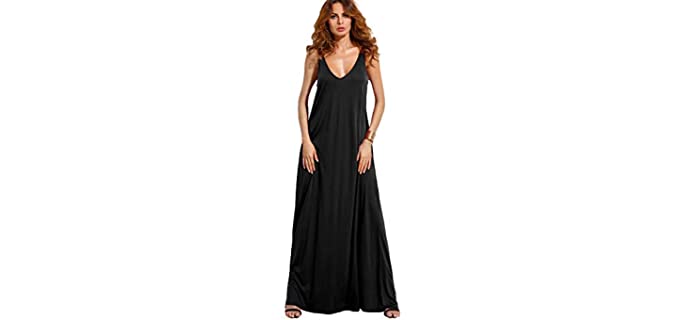 Materials – Maxi dresses come in a variety of styles as well as materials. Anything from breathable cotton, soft polyesters, rayon, chiffon, silk, and satins are ideal.
Design – Maxi dresses generally have a very long length up to your toes. They come in different styles and designs, with sleeves, short, long, or three-quarter sleeves, strapless, halter-neck, and strappy sleeves. They may have around, boat, or V-Neck neckline, among other designs. The most discerning style of any Maxi dress is its very long length and flowing looser fit design bottom.
Closure – Most maxi dresses area pull-on design, however, some have a zip, hook, eyelet, or button closure.
Options – Maxi dresses come in many colors options and prints. They are also usually available in plus and standard sizes, depending on the specific brand.
---
---
Reviews: Best Maxi Dress
These are our top picks in some stunning styles and colors in Maxi dresses;
---
1
The dress has an off-shoulder design and maxi length that is very elegant and feminine in style.
It comes in many colors and colorful prints so that you can choose to your heart's content.
You can wear it casually or even for an evening out.
The dress has an elastic design that will fit comfortably.
---
2
This is a unique maxi dress with a wrap closure design.
The dress has a V-neck neckline and a long maxi length.
It is comfortable and lightweight for everyday wear.
There are also more colors and floral prints available.
---
3
A Viscose and Elastane dress that is lightweight and breathable.
The dress is available in neutral colors only.
It has a maxi length and wide scoop neckline, ideal and elegant.
Ideal for all occasions and even for pregnant women.
---
4
These dresses are available in many prints, feather prints, and colors.
This is a maxi-length dress with a smocked waistline.
It consists of polyester and spandex for stretchability.
The length falls to your ankles, perfect for most shoe styles, even flat shoes.
---
5
This a rayon and spandex dress.
The dress has a maxi length and a looser fit design.
It comes in more colors and has a split hem.
There are also pockets for your convenience.
The loos and comfortable fit is ideal for everyday wear.
---
6
This maxi dress is available in solid colors and many soft pastels.
It has a maxi length and a sleeveless top.
The dress is cotton and lined with polyester for softness.
It is comfortable and casual in design.
---
7
An easy pull-on maxi length dress from Floerns.
The dress comes in many more colors and size options.
It is lightweight and comfortable for summer wear.
The style is more vintage, and it is a backless halter neck.
---
8
A soft and flowing maxi length dress from Milumia.
The dress is rayon and spandex that is very lightweight and flexible.
It is an A-line fit with buttons and a flowy bottom.
There are a V-Neck and short sleeves.
Floral Boho design prints are also available.
---
9
A maxi length summer dress in many solid colors.
The dress is loose and very comfortable to wear.
The dress is polyester and rayon, all very soft, durable, and breathable materails.
It has a double-cut V-Cut design front and back.
The fabric is very soft and stretchy.
---
10
A full maxi length dress with sleeves offers a comfortable fit and gorgeous feminine design.
The dress is comfortable, light, and flowy.
It comes in many solid colors and printed options so that you can choose from your favorites.
The fabric is very soft and stretchable for a customized fit that will not be too tight or uncomfortable with time.
---
Index Table: Top Rated Maxi Dresses
---
---