Finding the perfect bra can be difficult, considering the immense variety of styles available. Still, as you shouldn't take this decision lightly, this buying guide is designed exactly for your needs.
Bras account for essential pieces in every woman's wardrobe. Although they don't get to be seen out in the open, purchasing high-quality and well-fitted items is highly recommended for your comfort.
The best racerback bra, for instance, will make you feel comfortable while providing you with the support you want.
In this article, you will get acquainted with the best options to fit your expectations like a glove.
---
Racerback Bras – When to Wear Them
There's nothing more visually unappealing than showing off your bra straps. This is a definite no-no. Also, who wants to spend the entire day readjusting the straps, making sure they don't show off?
On that account, racerback bras have been designed to be worn under sleeveless tops and dresses. They are the perfect alternative to strapless bras that don't provide as much support as you want, especially if your bra size isn't the smallest.
On the other hand, you should note that these bras aren't suitable underneath boat-necked and wide-scooped tops.
You should know that there are also sport racerback bras, which are excellent when you're working out.
It's always important to look for the best racerback bra for your needs to look your best.
---
Who Should Wear a Racerback Bra?
There are a few instances and reasons why you should wear a racerback type bra;

Narrow Frame and Shoulders – Ladies with a more narrow frame and shoulders have more instances where their bra straps will slip off. In this area, a Racerback bra can look much better and will not slip off.
Active Lifestyle and Excercising – Racerback bras are an excellent option for exercising and active lifestyles. They are the best design in sports bras that will offer excellent support.
Lounging – I personally enjoy wearing a light support racerback bra when I am at home and not going anywhere. They are more comfortable than a full padded or underwire bra and look great with casual wear.
---
Features of a Good Racerback Bra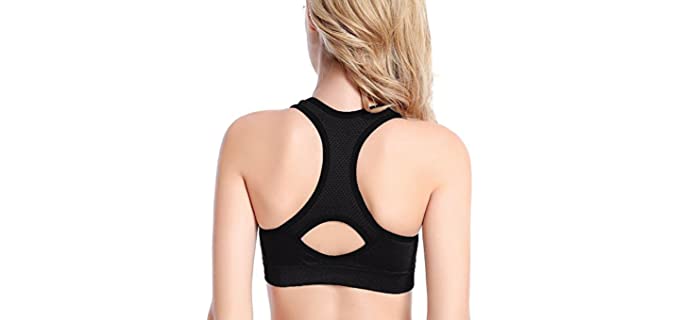 Materials – Most racerback Bras are sports bra types consisting of either Nylon, Polyester or cotton materials, as well as elastane or spandex for stretchability.
Closures – Most racerback bra designs have a pull on closure, although some have adjustable hook and eyelet closures such as other bra types.
Colors and Options – There are many colors and options available with either a sporty design or lace and mesh inset more feminine designs.
---
Reviews: Best Racerback Bra
Below we have some of the best available racerback design bras;
---
1
The racerback bra designed by Maidenform is the ultimate definition of comfort and support. Finally, you can say goodbye to slipping bra straps.
We loved the bra because it has just the right padding to ensure optimal support while granting a natural yet effortless look.
The fabric is soft and feels nice on the skin.
That is an important feature considering that many bras are pretty uncomfortable.
The front closing system is practical and convenient, which means you can quickly put it on and take it off.
The product is well-made, since it doesn't deteriorate after multiple washes, nor does it lose its original color.
If your shoulders are narrow or your bra straps slip regularly, this is one of the best options for racerback bras on the market. It's comfortable, convenient, and a go-to for everyday wear.
---
2
The Calvin Klein Perfectly Fit is a Lightweight Racerback Bra consisting of Elastane and Nylon Materails.
The bra has Memory Foam technology that molds to the shape of your body.
The back has a racerback design, and there is a plunge front.
The backstraps are likewise fully adjustable.
---
3
This racerback bra manufactured by Warner is an excellent addition to your wardrobe's essentials.
It features convenient front adjustable straps, which further increases the comfort of the wear.
Not to mention that this bra will remain hidden underneath your most fitted garments.
It is furnished with a light lining, which implies that you benefit from the right amount of coverage, without extra padding.
Note that this bra has some push-up support. However, you won't have to worry about your nipples showing off.
The padding and design are ideal for casual, daily wear.
There are many racerback bras out there that create a skin squeezing effect on the sides and back. Curvy Women, in particular, deal with this annoyance.
Nonetheless, this one designed by Warner doesn't have this problem.
It is well-fitted, smooth, and even invisible under the most fitted tops.
---
4
Wacoal has created a racerback bra whose comfort and function are excellent.
The choice of high-quality fabrics and minimalist, neat design make this product a good investment.
The bra isn't padded, which means you can wear it throughout the day without dealing with the extra heat.
The cups' design enables the bra to stay true to the size and shape of your breast.
That is a feature you don't find in many bras these days.
Nonetheless, the underwire, which is made of plastic, doesn't seem to have a well-made feel. That affects the durability of the product.
In a nutshell, if you're looking for a bra that provides you with support, comfort and still preserves the shape of your breasts, you should consider the product designed by Wacoal.
---
5
The Maidenform Pure Genius is a comfortable Racerback bra that comes in four different color selections.
The Cups are Nylon, Elastane and the band and straps are also nylon and elastane.
There are a hook and eye closure at the back, and the back has a racer design.
The Lace at the back gives it a more feminine touch, and smart zone cups lift and shape from the sides.
---
6
The Cabales racerback bra comes in many colors in sets of three.
The Racerback bra is available in regular as well as plus sized options for all shapes and sizes.
The bra consists of Nylon and spandex materials mostly.
There are a racerback design and a pull-on closure option.
The bra is wireless and completely seamless for your comfort.
---
7
Fruit of the Loom offers you many color options and a variety pack in their Racerback bra range.
You can select from many color options, all in the two-pack sets.
The bras consist of cotton, spandex, polyester, and a spandex liner.
There are hook and eye closures at the back, which has a racer style.
The sports bras offer full coverage and have a two-ply stretch construction.
---
8
From Baomosi, we have the seamless racerback design bra range.
These seamless bras come in many colors, from which you can choose as you wish.
They have Climacool technology, meaning the bra can manage moisture and heat through proper ventilation.
These are ideal to use as sports bras and for a variety of activities.
---
9
The Yvette High Impact Posrtsbra comes with a racerback design and Criss Cross Straps.
The bra is available in regular as well as plus sizes.
The design is a pull on that consist of polyester and elastane materails.
They are high impact sports bras, so they are ideal for high-intensity sports and exercises.
---
10
The Natori Feathers is a T-Strap design racerback Bra that is elegant and feminine for everyday wear.
The Lace gallon and bra consist of Nylon, Spamdex, and Mesh materails.
There are hook and eye closures.
You can get the Natori in many available color selections.
These bras are handwash only, however.
---
Index Table: Top Rated Racer Back Bras
---
---