Finding the right bra for larger breasts is a challenge for many.
Bra shopping usually consists of a quick trip through the underwear and lingerie section of a store, a selection based on "standard" sizing charts, colors, whether or not it is cute, and then a quick test in the dressing room to see if it fits.
The problem with this is that you aren't giving yourself enough time to get a real feel for the bra.
Finding the right bra takes time, and if you're sick of wasting money on ones that don't work, we have a few suggestions of ones that will.
Check out the best bras for DD cup sizes on our list below. These are the top choices of women just like you, who struggle to find a comfortable, properly fitting bra for their large breasts.
---
How to Choose
When looking for a bra, colors and cuteness should be the last thing on your mind.
Here are a few things you should consider to find the best bra for your abundant bust size.
Occasion – Where you plan to wear the bra is your first step. Do you need something to wear to the gym, something to wear to work, a nursing bra, or something strapless and supportive for a formal gown?
The amount of Coverage – The amount of coverage will make a big difference. Opt for a full coverage bra or minimizer bra when you're wearing a t-shirt or blouse with no plunging neckline. Minimizer bras are great when you have a button-up blouse since they help you reduce the bust size just enough to allow it to close. When you want to enhance your cleavage, you'll need a decent molded bra, demi-cup, plunge, or balconette bra.
---
Features of a Good Bra In DD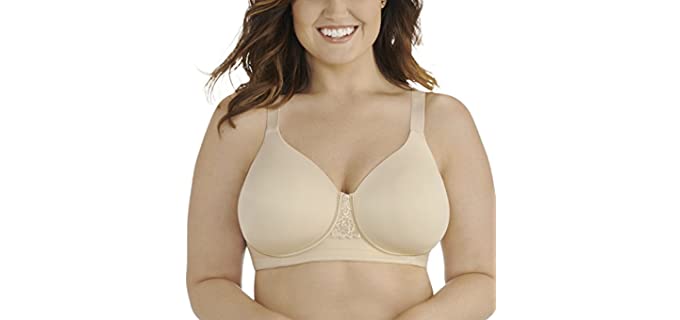 Materials – Most bras consist of these single materails or a blend of, Cotton, Polyester, Nylon, Rayo,n, or Polyamides. They also contain Elastane and Spandex for stretchability, mostly in the bands.
Options – The DD bras come in a larger size and standard size options with availability in DD, as well as smaller and larger cup sizes. There are also more color options available in most bra Models.
Designs – Bras come in padded, non-padded, wired-, and non-wired design options. Most have adjustable straps, and some have a wider back band.
Closure Types – There are two closure types, namely the hook and eyelet or a buckle closure, placed in the back or the front of the bra.
---
Reviews: The Best Bras In DD
These are some of the best brands and models of brass available in DD and larger cup sizes;
---
1
The Bali Comfort is a supportive and comfortable bra that is available in DD and DDD cup sizes.
The bra has a full support lining and a buckle closure in the front for your convenience.
The design is comfortable and shaping with a superior fit and support.
There is likewise a wider band for better back smoothing.
---
2
The Glamorise Wonderwire bra is available in plus size options as well as much larger cup sizes.
The bra consists of Polyamides, Elastane, and Spandex for stretch.
It has WonderWire technology with an underwire design and a cushioned band.
There are stretchable and comfortable lace cups.
The adjustable and stretchable straps offer a more comfortable fit.
---
3
From Chantelle, we have a seamless and comfortable bra that is available in DD cup sizes.
The bra cups have full coverage minimizing a completely seamfree design.
There is a double-lined mesh band for a more smoothing look.
The bra is available in DD size options.
The straps are similarly fully adjustable for a customized fit.
---
4
The Elomi Underwire bra has an elasticated neck edge and larger cup size availability.
This is a polyester, Nylon, and Elastane bra.
There are a hook and eyelet closure at the back,
The bra offers full coverage with mesh inserts and embroidered details.
The back strap is positioned to prevent slippage,
There is also an elasticated neck edge for ease of fit.
---
5
The Vanity Fair style 72345 bra is available in DD and DDD cup sizes for all your requirements.
This is an all-around smoothing and shaping design bra that does not have any wires.
It offers fuller coverage and good support.
There are DD and larger cup sizes available.
You can likewise choose from a few more colors that are available.
---
6
From Curvy Kat, we have a Princess Balcony Bra available in Plus sizes and larger cup sizes.
The bra consists of polyester and spandex for stretchability. There are plus size and larger cup sizes available, as well as more color variants.
The straps are fully adjustable for a more custom fit.
The banded underwire design offers excellent support and comfort.
---
7
The Fruit of the Loom bra is lightly lined and has an underwire for full support.
The bra is available in DD and DDD cup sizes as well as many more color options.
It consists mainly of cotton with spandex for flex.
The cups are smooth and comfortable with a natural look to them.
There is a thick front strap to help with lifting and adjustability.
---
8
The Calvin Klein, Perfectly Fit bra comes in a much larger and DD cup size option and more colors you can choose.
The bra consists of Nylon and Elastane for stretch.
There are a hook and eyelet closure at the back and fully adjustable straps.
The solid wing gore and cushioned back closure ensure comfort and convenience.
It is styled to fit perfectly, almost like a bikini.
---
9
The Warner No Side Effects bra is available in DD and larger cup size and offers full coverage and support.
The bra is nylon and elastane, as well as available in a few more colors.
It has a hook and eyelet closure system and is fully machine washable.
There are extra side coverage panels to prevent underarm bulges,
The front straps are adjustable for more convenience and a better fit.
---
10
The Playtex Women's Secrest is a wire-free bra that is available in DD and larger cup sizes.

The bra has a Nylon frame and cups with spandex for stretch and polyurethane foam padding.
They are available in larger sizes and cup size options up to DDD.
There are a hook and eyelet closure,
The bra is wire-free and ideal for wearing as a T-Shirt bra.
---
Index Table: Top Rated Bras In DD
---
---