Padded shorts are ideal for cyclists and persons who enjoy spinning classes or similar activities. They provide comfort and reduce pressure points for these particular sports and activity types.
The best padded shorts can make the difference between you loving or hating cycling or similar activities and will make a huge difference in your experience.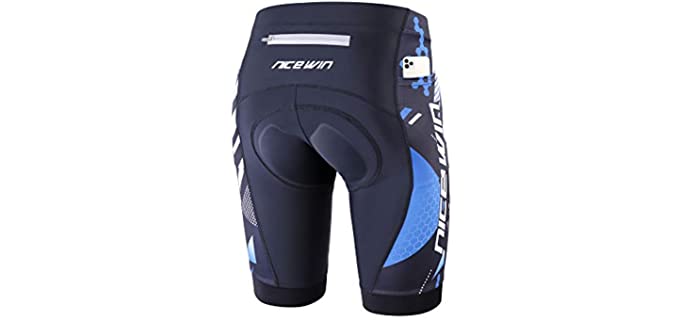 ---
Why You May Need Padded Shorts
Padded shorts, as mentioned, are ideal for cycling and spinning classes, and here is why you really do need them;
They Remove Pressure Points – Many athletic shorts are designed with a seam that sits just underneath the crotch area and directly on the saddle of your bike, this area receives the most pressure when cycling or spinning. As you move around, there may be chafing and irritation to the sensitive area that can cut some pain and much discomfort. Not to mention the hard saddle that can cause pressure on the sensitive areas. Padded shorts help to reduce the pressure and are also designed to prevent excessive friction.
Moisture Control – Most Padded shorts are designed with fabric technology that dries quickly and wicks away moisture. Because cycling and spinning are intense sports, you may sweat quite a bit, especially in the crotch area and on the saddle. This can cause much discomfort, friction, and irritation, which can be prevented with moisture-controlling fabric in your padded shorts.
Vibration Control – High-frequency vibrations called road shock when cycling is caused by the rubber tires of your bike rolling on uneven road surfaces. Even with smooth roads, there will still be some amount of vibration that your body experiences. This vibration also comes through the seat of your bike and can cause pressure and pain. The padded shorts help to reduce vibration and bumps when cycling.
---
Types of Padded Shorts for Cycling
Spinning Shorts – Some cycling shorts types can be used for spinning, they are generally tight fit shorts with light padding.
Road Shorts – Road shorts are designed for road cycling, and they are designed with plenty of padding and materials to prevent chafing and friction.
Commuter Shorts – For Cycling and Biking lifestyles, these shorts are casual and comfortable with woven stretch fabrics. They may also be padded for comfort.
Mountain Bike Shorts – Mountain Bike shorts are more durable, rugged, have a looser fit, and some padding with a padded liner design. They are sometimes sold as two pairs of shorts with a loose top short and a tight bottom short with padding.
Cycling and Bib Shorts – Cycling Bib shorts are compression type shorts that sometimes help up with straps or suspenders. They are more ideal for long bike rides.
---
Features of Good Padded Shorts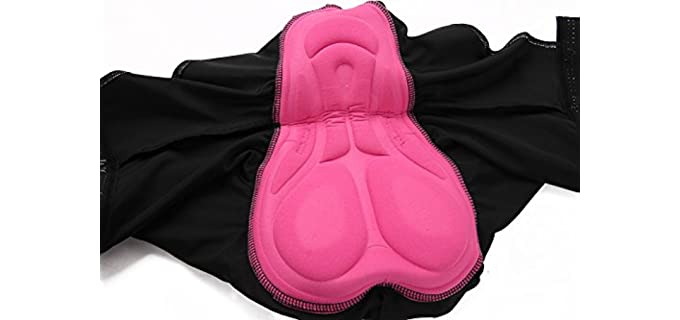 Fabrics – A large range of materials are used to construct padded shorts. Mostly nylon fibers, polyester, and spandex are used for stretch and durability. These materials have proven to have the best qualities and are more durable. Some padded short fabric will actually draw moisture away from your body to the surface of the fabric, where moisture evaporates. This type of fabric also breathes and ventilates to prevent you from overheating.
Pockets – As we need to keep certain devices, keys, and other small items at hand, most padded shorts do come with pockets or zip pockets. These pockets are specially designed with a zip so that your items do not drop out of the short while you are cycling or spinning, so I advise you to always opt for a zipped or very deep pocket design.
Elastics – Most padded shorts have elastic legs and waists, and some may have a drawstring closure, make sure that the elastic waist band has a wider design as this is much more comfortable. You will also not high, low, and mid waist fit designs, which are all comfortable, depending on your actual preference and personal needs.
Inseam – Ideally, for cycling and other sports, padded shorts need to have an inseam just above the knee, which is more protective., however longer lengths are also available.
Panels -Usually, padded shorts came with quite a few panels, but as technology improved and they became more comfortable and stretchable, there will be fewer panels. Ensure that seams and panels are flat stitched and locked so that they do not cause irritation and friction.
---
Reviews: The Best Padded Shorts
Below is out extensive list of Padded shorts in all styles;
---
1
From Endura, we have pro Cycling padded shorts for ladies.
The shorts are ideal for cycling and spinning classes.
They are padded for comfort and have an elasticated waist.
There are plenty of colors and sizes available from which you can choose.
---
2
The Baleaf padded Shorts are ideal for cycling and spinning classes.
The shorts have 3 Dimensional paddings and are lined for comfort.
They are mainly polyester with spandex for stretch.
The shorts are breathable and very lightweight, with ample padding for cycling and mountain biking.
---
3
The Nooyme padded shorts are ideal for cycling and spinning.
They have 3 D padding for comfort and full support.
The shorts are lightweight and breathable with an elastic closure.
They are available in more colors and consist of polyamides and spandex.
---
4
The McDavid Padded shorts also offer compression.
They have Hex Pads and are dual density Thudd tights with hip, thigh, and tailbone padding.
The shorts likewise offer light and comfortable compassion.
They are machine washable, and there is more color available at your disposal.
---
5
The Terry shorts for ladies are five-inch shorts with padding.
The shorts are compression shorts with padding for your comfort and for better blood circulation when sitting down for long periods of time.
The padding also helps to reduce pressure points.
They have a shorter five-inch length ideal for cycling and spinning classes.
The shorts consist of nylon and spandex that is breathable and stretchable.
---
6
The Nicewin cycling shorts are padded for riding bicycles, motorcycles, and for mountain biking.
They have proper 3 dimensional padding and a quick drying fabric design.
The shorts have a zip closure and are machine washable.
They are also available in more color and size variations.
---
Index Table: Top Rated Padded Shorts
---
---