There are so many factors that can affect the appearance of your knees or add extra weight to your knees. There are also exercises and weight loss systems that may help.
Yet, all in all, if you have tried everything and still struggle with fat or unsightly knees, the best may be to wear clothing that hides or flatter your knees.
This article looks specifically at the best shorts for fat knees and how to wear them to your advantage.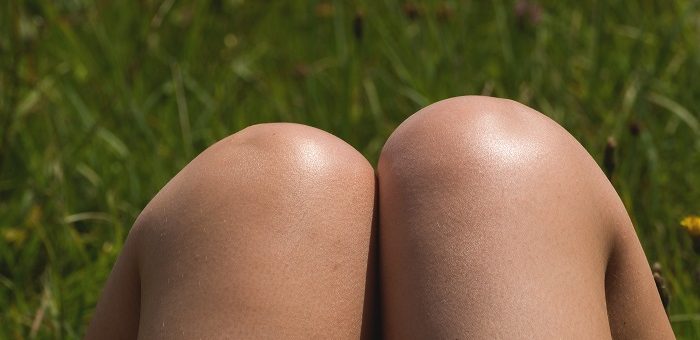 ---
How to Improve Fat Knees
But before we get into shorts and pants for fat knees, let us first look at a few easy solutions if you have not tried them yet;
Losing Some Weight – If your knees are fat because of a weight issue, it may be wise and healthy to try a healthy diet and some exercise to lose some weight. This, in turn, may also reduce the fat in your knees. Running, jogging, or even walking are excellent cardiovascular exercises that will help you lose weight and burn calories, which may reduce the fat in your knees and strengthen the joints and muscles in your knees.
Exercises for Your Knees – squats help target your quadriceps and are an excellent exercise routine to tone your legs, knees, and even your glutes. Lunges target the front muscles in your legs and help reduce fat deposits in your knees and strengthen them. Jumping rope is a high-calorie burner if your knees are strong enough and you have no issues.
Other Options – there are other more invasive options available to reduce fat in your knees if you are up for it. These include laser therapy, liposuction, light therapy, and mesotherapy.
It does not matter which options you choose, or if you choose any at all. It will, however, take persistence and time to reduce fat in your knees, similar to any other part of the body.
Keeping your knees strong and healthy is what is important, going beyond aesthetics. While knee fat may not bother you, you also do not want to hurt your knees or the joints in them or strain them. Thus some exercise is always a good choice.
---
Dos and Don'ts for Wearing Shorts if You Have Fat Knees
Then, to get to the best short for fat knees here is how you should and should not wear shorts;
The Inseam Length – This is basically the leg length of your shorts. Ideally, you want to hide your knees just a bot so that the best length will be a Capri or a Bermuda length. Capris sit below the knee, while a Bermuda length sits neatly on the knee.
The Leg Opening – be careful of skinny and tight-fitting shorts as they may not fit around your knees. Pay attention to the size of the leg opening.
Other Features – Do pay attention to other shorts, such as the rear fat, it needs to fit snug but not too tight or baggy. Also, get a proper rise, such as mid, low, or high, depending on your body type. A high or mid-rise is always a good choice to flatten your tummy and create length for your legs.
Colors and Designs – Opt for colors that do not draw attention to your knees. Look for darker and solid colors, and wear a more colorful or printed top to draw attention away from your knees. Do knot wear frilly or frayed hem shorts, and they will accentuate fat knees.
---
Features of Good Shorts for Fat Knees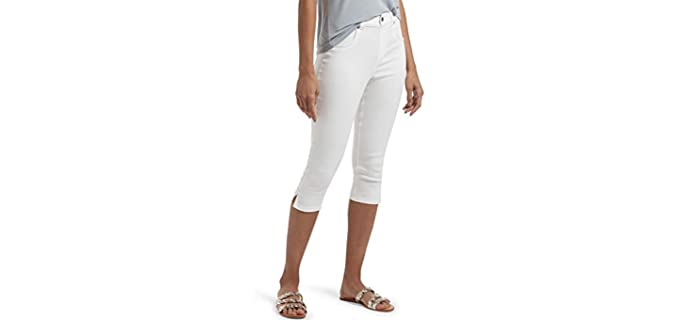 Materials – Shorts for fat knees come in all sorts of material options. The Denim shorts are usually cotton and polyester with some elastane for stretch. Then you also get softer polyesters, viscose, cotton and spandex for stretch.
Design – The main design element is to opt for shorts that have a cut on or below the knee, such as Bermuda and capris shorts, with a comfortably sized leg hole.
Closure – Most shorts have a zip and button closure. With the more athletic styles, there may be an elastic pull-on closure or drawstring closure.
Fit – The fit should not be very loose or tight, just comfortable tailored or snug.
Options – Options available will be colors and prints and standard and plus sizes depending on the specific brand and model of shorts.
---
Reviews: Best Shorts for Fat Knees
These short styles and designs are absolutely perfect if you have fat knees or even just knees that you are uncomfortable with;
---
1
The Gloria Vanderbilt Mila shorts for women have the perfect design for fat knees.
They are cotton, polyester, viscose, and spandex.
The shorts are available in many more colors and washes.
The shorts are belted skimmer shorts with a flattering midrise design.
---
2
The Always shorts are athletic knee-length jogger shorts for fat knees.
They are comfortable and ideal for sports and leisurewear.
The shorts consist of Polyester and spandex for stretch.
They are a four-way stretch design and knee-length for better coverage.
Easy to care for and fully machine washable.
---
3
The Hue Capri shorts will hide your knees and also fit comfortably.
They are available in plenty of colors and more sizes.
They are cotton, polyester, and spandex for stretch.
The fit is snug yet stretchable and comfortable.
---
4
From Lee, we have some Relaxed Fit Cargo styles shorts for fat knees.
They are mainly cotton with some spandex for stretch.
The shorts come in more color options and sizes.
They can be machine washed and offers a more relaxed and comfortable fit.
---
4
The Levi's Bermuda shorts come up to the knee and have a wider leg for fat knees.
They consist of cotton and polyester with elastane for stretch.
The shorts are knee-length for more coverage and have a tailored fit that is more flattering.
They are a regular fit with a midrise cut.
---
6
The ChinFun Hiking Capris shorts are ideal for outdoors and quick drying.
The design offers good coverage for fat knees and also a comfortable fit.
They are durable, water-resistant, and UPF 50+ protecting.
The shorts consists of polyester and elastane for stretch.
---
[/super_product]
Index Table: Top Rated Shorts for Fat Knees
---
---