One thing we will tell you right from the get to is that the best support bras are for women with a large bust size, which means that you might need a minimizer bra or something that offers you lift if you're wearing a low-cut neckline.
The "support" in a support bra happens in the back and the straps, with a band covering more of the back than a traditional bra. They may close in the front or the back and have thicker straps and wider wings (on the side), but their point is to keep you comfortable and proportionate throughout the day.
Have a look at the top six support bras below. It's time to ditch Victoria's Secret and opt for a brand that really understands what you need!
---
How Much Coverage Do You Need?
Decide if you need to minimize or add volume.

Minimizer Bras – A minimizer bra isn't going to squish and flatten your breasts; it simply helps you trim you down so that fitting into certain clothing will be a bit easier. It also helps give you a more proportionate look.
Volumizing Bra – When you're wearing a shirt that shows some cleavage, a push-up bra is standard, so make sure you're looking for one that also offers you more support on the side and back of the band to help you stay comfortable.
---
Number of Hook and Eyes
One or two rows just won't cut it.
If you are top-heavy and your breasts cause you backaches, if they sag, or if you need something to help keep them in check, then you need to increase the reinforcement.
Bras that offer more support have three or four rows of hook and eyes, so remember to add this to your checklist as you're browsing the best support bras.
---
Features of a Good Support Bra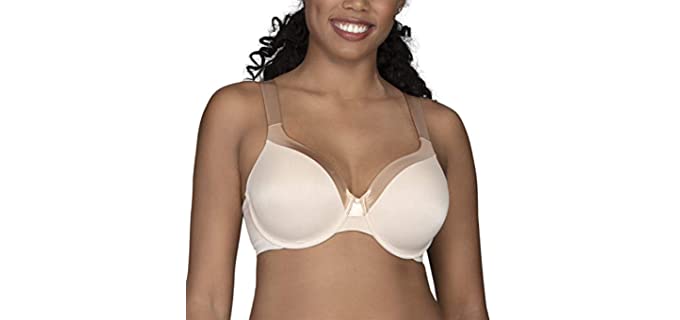 Materials – Most bras consist of a blend of either cotton and spandex for stretch or polyester and spandex. Some bras include materails such as Nylon, Polyamide, and rayon.
Design – Support Bras usually have a sling cup design or an underwire for additional support.
Closure – You can look at front or back closures, of which two kinds are available, the hook and eyelet closure or buckle closure.
Options – Support bras come in a variety of colors available, as well as standard and plsu sozed options with standard or largere cup sizes.
---
Reviews: The Best Support Bras
Here are our top favorites in the best available support bras;
---
1
The Bali Comfort Revolution is a full support bra with buckle closure.

The bra consists of spandex and nylon, with polyester cup pads.
The cups are lined and offer full support.
There is an easy front buckle closure system.
The band has a wider design to smooth your back, and the cups consist of stretch foam.
---
2
The Wacoal Underwire sports bra offers excellent support and availability in G and H sized cups.
The bra consists of Nylon and spandex for stretch.
There are hook and eye closures at the back.
The underwire design offesr full support.
The designs are a high impact sports bra.
There are cups with hidden inner slings fr additional support.
You can get this bra in more colors as well as G and H cup sizes.
---
3
The Wacoal Basic bra has an inner cup sling for better support and comfort.
Polyester and spandex make up this bra that is durable and stretchable.
There are a hook and eye closure at the back and wider, more smoothing bands.
The cups are sleeveless with an inner sling for better support.
The bra likewise has an underwire for support.
---
4
The Playtex, 18 Hour Ultimate, features TruSUPPORT technology and comfortable sling cups for better support.

The cups offer full coverage, and there are a hook and eyelet closure at the back.
Lift panels in the cups offer a more natural lifting shape to your breasts.
The TruSupport technology has a four-way support design and jacquard fabric with floral designs,
The straps are cushioned for comfort.
---
5
The Glamorise 1066 model is a wire-free optimal support sports bra.
The bra consists of a blend of Polyester, Polyamide, and elastane for stretch.
There are a hook and eye closure at the back with a two-way stretch back design that moves with you.
The non-stretch extra wide comfort straps are fully adjustable.
Furthermore, the bottom cups are reinforced for better support.
---
6
The le Mystere T-Shirt bra is cotton and polyester, offering full cover and a smooth silhouette.

This is a T-shirt design bra that smoothes and looks good under most t-shirts.
It consists of cotton, polyester, polyamides, spandex, and rayon fr comfort.
Ther is an easy hook and eyelet closure at the back.
The bra offers full coverage and cup support.
---
7
The Vanity Fair Illumination bra offers full support for fuller figures with a Zoned-In design.
There is an extra support sling for superior shaping of your silhouette.
The elegant treated fabric has a soft satin trim.
There is a leotard back design and no-slip stay in place straps.
You can also select from a few more color options.
---
8
From Fruit of the Loom, we have a front closing sports design bra that offers excellent support and comfort.
The bra consists of mostly cotton with spandex for stretch and some polyester.
There are a front hook and eyelet closure and a racerback back design.
The bra is completely tagging free for your comfort.
You get a set of two bras per pack in varying colors.
---
9
The Olga Luxury is a lift and support bra that offers full coverage with an underwire.
The bra is Nylon and spandex for stretchability.
There are a back hook and eyelet closure.
The underwire offers excellent support with partial lace overlays on the cups.
The shoulder straps are also fully adjustable.
---
10
The Hanes Comfort Evolution is a wire-free and seamless bra that offers full support and comfort.
The bra consists of spandex and polyester.
There is a seamless lining in the cups and the rest of the bra.
The design is wire-free, with a sweetheart neckline and a hook and eyelet back closure strap.
Ther is also contrasting sheen on the trims for aesthetic beauty.
---
Index Table: Top Rated Support Bras
---
---