Those little colorful and cartoon printed sunglasses score major cuteness points for your toddler, but all in all, sunglasses should offer more than just a fun fashion statement for your little one.
Sun exposure to a toddler's eyes can be quite damaging, and they are at such a larger risk than adults or even older children.
This is why the best toddler sunglasses need to be considered for the protection of your little one's fragile eyes.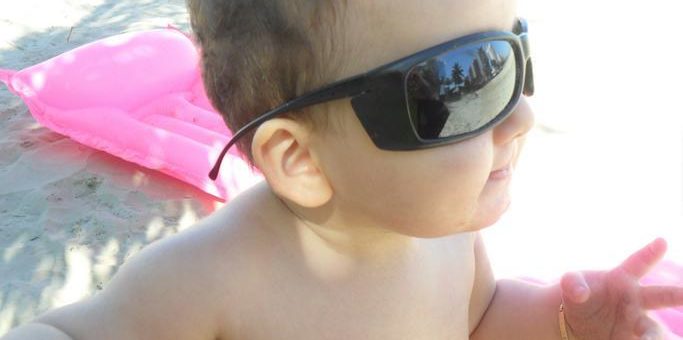 ---
Choosing the Best Toddler Sunglasses
There are a few factors to consider when choosing the best available sunglasses to offer your toddler the best UV protection for their eyes and skin;
Full UV Block – Ensure that the sunglasses' label read that there are UVA and UVB resistance or blocking. Also, always look for at least 100% protection against UV rays. Your toddler needs the maximum amount of protection from their sunglasses.
Optical Quality – The sunglasses that your toddler wears should never blur their vision or make it difficult for them to see. Check the sunglasses' lenses for distortion and try to avoid darker lenses that may affect the colors that they see.
Gray Shades – General lenses with a more grey shade will not distort or affect the colors that your child sees. You can also ask your optometrist for advice when it comes to colors and clarity for your toddler's sunglasses.
Durable Materials – Toddlers are rough, and their sunglasses will be dropped, scraped, and go through many more growing pains. Thus, always opt for materials that are plastic or similar, rather than glass and metals. Also, look for impact-resistant and scratch-resistant lens options.
Straps – Having toddlers myself, I can guarantee you the sunglasses will not stay on and will get lost at some point. This is where a strap comes in handy, which helps to keep them on, and if taken off, they just hang around their neck and do not get lost.
Make it Fun – If possible, let your toddler choose a pair from the options you have considered to make it fun for them and to get them willing to wear the sunglasses. Opt for fun colors and prints, but still, make sure that the sunglasses offer the proper protection levels.
---
Getting Your Toddler to Wear Sunglasses
Now that we have your choices out of the way, another difficult task at hand is getting your toddler actually to wear the sunglasses. Toddlers have very strong wills of their own, and getting them to do anything may be close to impossible. So mommy's and daddy's here are a few helpful tips from my side to get them wearing their much needed sunglasses;
Involve Your Toddler in the Choice – Your toddler is much more likely to wear sunglasses that they have chosen themselves, as this makes them feel in control which is always exactly what they want to be! Get a few options that have the proper features and give them a choice.
Lead by Example – Another thing about toddlers is the fact that they love to do grown-up things and to follow our every move and action. So lead by example, wear your sunglasses and encourage them to do the same.
Use a Headband or Strap – Use a specialized headband or get sunglasses with an attached strap to keep the sunglasses in place. You also get wrap-around style sunglasses for toddlers that fit them perfectly.
Hat and Sunscreen – Last but not least, I would like to remind you always to use a proper sunblock on your toddler when outdoors for long periods of time. Likewise, a sunhat can offer excellent protection.
---
Features of a Good Pair of Toddler Sunglasses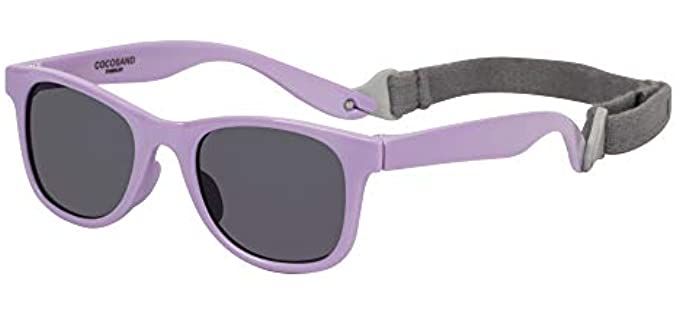 UV Protection – Make sure that the lenses offer at least 100% UVA and UVB protection.
Materials – For the lenses, I would recommend a polycarbonate, plastic, or generally any impact-resistant lens that will not shatter or break easily. Look for polarized or non-polarized as you need. There are also mirror-coated lenses available. The frame can be plastic, Thermoplastic, Nylon, or rubber.
Design – Sunglasses for Toddlers are generally much smaller, with a more rounded frame to fit snugly around a toddler's head. Some models come with a neoprene or rubber strap to keep the sunglasses on and prevent them from falling off.
Comfortable Tint – Also, look for lenses with a comfortable tint for your little one that they can easily see-through. Try to avoid very dark lenses.
Options – As you will see the chosen sunglasses in our list come in a variety of options. There are size options for toddlers of various ages, as well as more color options and lens color options for both boys and girls.
---
Reviews: The Best Toddler Sunglasses
---
1
The Roshambo shades for toddlers are fully polarized.
They are safe and designed specifically for toddlers to wear.
They consist of flexible and durable materials that can withstand all your toddler has to offer, and their fit is flexible and bendable for comfort.
The sunglasses come in colors and options for toddlers to choose from as their hearts desire.
They are extremely lightweight and offer full UV protection.
---
2
The Original Weefarers support a wayfarer design made just for your toddler.
They have a rubber frame and durable polycarbonate lenses.
There is a 100% UV protection coating.
Furthermore, the frame is bendable and flexible for the perfect fit.
They are designed by parents themselves with all elements associated with a toddler's needs taken into account.
---
3
The Baby Banz comes in sizes for toddlers and for babies.
They have a silicone nose design and brow piece with polarized lenses.
The category three polarization of the lenses offers much better glare resistance and UV protection.
The lenses have a UV 400 rating for 100% UVA and UVB protection.
They are also strapped with a neoprene band for a comfortable and secure fit.
More color options are likewise available.
---
4
The Julbo Looping Baby sunglasses are ideal for toddlers and babies.
They are polarized with plastic lenses and a mirror coating.
The frame is durable and flexible with a reversible design so your toddler can wear them whichever way they want to.
The lenses offer full UV 400 protection
---
5
The Kushies Kids Sunglasses are also available in options for toddlers as well as small children.
They have polycarbonate lenses and a flexible Dupont rubber frame.
The lenses are likewise impacting and scratch-resistant.
There are toddler sizes of one year and up available, as well as sizes for babies under twelve months.
More colors are available to your liking.
---
6
from Cocosand, we have a Strap design sunglasses for toddlers.
There are Plastic Lenses and a Thermoplastic Elastomer frame with mirror coating on the lenses.
The frame is adjustable with an ergonomic fit for toddlers and an adjustable strap for a more secure fit.
You also get a handy microfibre pouch with the purchase of your sunglasses.
---
Index Table: Top Rated Toddler Sunglasses
---
---