Our body shapes are so wonderfully varied, and we are each unique. This could sometimes make it tricky to find the right outfits that look good and flatter our specific body shapes.
When it comes to bathing suits, it can become particularly difficult. In this article, we will look at the best bathing suits for athletic build bodies ideally.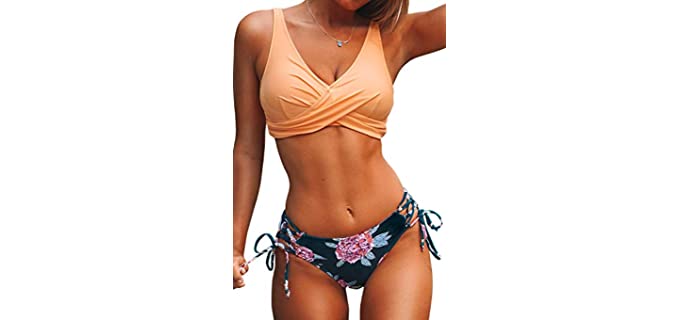 ---
Athletic Body Shape
What Exactly constitutes an athletic build? Well, all in all, the athletic body shape usually combines very broad shoulders with a much straighter silhouette and very little difference between the waist, hip, and bust measurements.
The Sporty Body shape could also sometimes be referred to as an inverted triangle shape or rectangular body shape, depending on your proportions.
An athletic body shape is defined by broad and well-defined shoulders, a small to medium-sized bust in ladies, a toned to medium torso and waist, more narrow hips or similarly shaped hips, and a rather flat bottom.
Combine darker tops with more colorful bottoms, especially if you have broader shoulders and a narrow bottom area.
Use thick strap tops and bathing suits for ladies when you have broad shoulders.
A Plunging neckline in a bathing suit top or top area emphasizes cleavage in ladies and minimizes the broad look of your shoulders.
For the ladies, strapless and bandeau tops are to be avoided when you have broad shoulders.
Use ruched bottoms and cheeky shorts to enhance a flat bottom. For the men, a looser fit design bathing shorts are ideal for a flat bottom.
---
Choosing a Swimsuit for an Athletic Body
Here are a few bathing suits designs that are absolutely perfect for an athletic body shape;
Bikini Bottoms – For a narrower waist and flat bottom, opt for bikini bottoms with side toes, ruched details, and colorful prints. Avoid boy short designs and full cover legs. Most high cut bikini bottoms or swimsuit bottoms are ideal for an athletic figure.
Men's Bathing Suits Bottoms – For the gent's board, short type bathing suit bottoms are ideal at an above-the-knee or shorter length, with bright and bold colors or prints. A Speedo design is also quite acceptable if you are brave enough to pull it off but opt for the high cut designs.
Bikini Tops – For broad shoulders and smaller breasts, try a top with a halter neck or thicker straps and a push-up and padded cup design. Use solid and light colors and designs with frills and patterns on the cups.
One Piece Swimsuits – An asymmetrical one-Piece swimsuit with high legs and a V-neck design is perfect in this range. Some surf swimsuit designs are likewise quite ideal for an athletic body shape.
To Avoid – Avoid strapless and thin strap bikini tops if you have broad shoulders. Also, avoid boy short bottoms and dark solid color for the bottoms.
---
Features of a Good Bathing Suit for an Athletic Build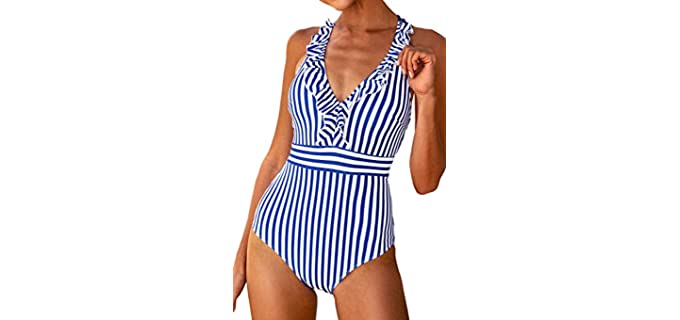 Materials – Most Swimsuits consist of materials including nylon, spandex, elastin and polyester, which are all durable and water Friendly materials.
Designs – Try to opt for feminine styles such as ruched and patterned swimsuits. For Bikinis us darker tops and thicker straps or halter bikini tops with some padding. The bottoms should be proper bikini bottoms and can have side ties.
Colors and Options – Try more colorful options for the bottoms or bottom area and more colorful printed options on top. Colors and size options are usually available in most brands and models.
Closure – Most swimsuits are a pull-on style, whereas bikinis may have a tie or a clasp closure type, and bikini bottoms may also have side toes as a closure.
---
Reviews: The Best Bathing Suit for an Athletic Build
---
1
Another stunning swimsuit design from Cupshe for athletic build ladies.
The floral colors and designs are ideal for creating a more feminine and fashionable look.
The top has a lace-up design, and there is a side tie bottom, one of the best designs to flatter an athletic-built body shape.
There are many more colors available, as well as plus and standard size options from which you can easily select.
---
2
From Silkworld, we have slim design swim shorts for men with an athletic build.
The swim shorts are nylon and have zipper pockets for storing keys and smaller items.
They come in more colors from which you can choose and are machine washable.
The shorts are comfortable and lightweight with a drawstring closure.
---
3
The Cupshe bikini swimsuit is a fun floral design.
It consists of Chinlon and spandex materials.
The top is a twist front, and the bottom has toes sides which are perfect for athletic builds.
The floral colors add a feminine touch, and more colors are available.
There are also many size options available to you.
---
4
The Nonwe swim shorts for men are sporty shorts that have a quick-dry board shorts design and materials.
The swims shorts are polyester and spandex with stripe prints.
They have cargo pockets on the one side and are quick drying in design.
Furthermore, they are lined for comfort and very lightweight.
---
5
From Mooslover, we have a high waist tie two-piece swimsuit for athletic figure ladies.
The swimsuit has a tie closure and consists of polyester and spandex, which are durable and quick drying materails.
The colors are light and feminine, with solids and prints available from which you can choose as your personal preference.
The One-shoulder design is ideal for broader shoulders, and there is removable padding.
There are also plus and standard sizes available so that you can get the perfect fit for your body shape and size.
---
6
The Speedo is an old-time favorite among many men, it refers to a type and brand of swim briefs for men.
This model has a square leg slice design and a drawstring closure.
It is available in a few more colors.
The materials are nylon and spandex for stretch.
The swim briefs ate comfortable with a chafe-free design and square leg design for athletic builds.
---
Index Table: Top Rated Bathing Suit for an Athletic Build
---
---