Shopping for a new swimsuit is not always the easiest task, and it can be quite tricky to find a style that will give you the best flattering fit.
When you are on the curvy side, it may be even more difficult to find a well-fitting swimsuit that also looks good and fashionable.
All in all, your swimsuit should play your curves and not hide them. In this article, we will help find the best swimsuits for curvy women that actually flatter and enhance your best features.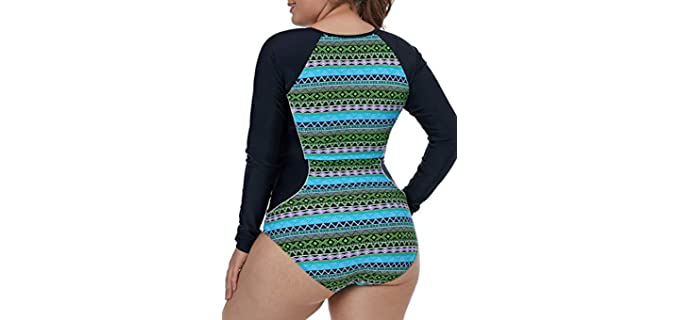 ---
Plus Size and Curvy Swim Suits
When it comes to Plus Size VS Curvy, I just want to clarify that not all curvy women are actually plus size. However, there may also be some that are plus-sized.
You actually do get specific curvy fit swimwear designed for curvy girls of all sizes from 8-20 and sizes.
This is actually called the PLT shape swimsuit, but they are quite rare to find a few brands that have them available.
On the other hand, there are plenty of swimsuit designs that, in fact, flatter and accommodate certain curves, which will also depend on your unique body shape.
Many of the brands and models that I have chosen today are available in plus and standard sizes and have been designed specifically for curves.
---
Swimsuit Designs for Curvy Ladies
After a bit of research, I have found some really gorgeous swimsuit styles that truly flatter the curvy shape, no matter what your body shape;
One Piece Swimsuits – The One-Piece Swimsuit is an absolute staple for any curvy lady. It holds everything in place and is always in fashion. You can easily pair it with a pair of swim shorts or a sarong if you have larger thighs, or opt for a ruched style to hide your tummy.
Bikinis – Well, just because you have some curves, or even if you are on the plus size, is no reason that you cannot reach for a bikini. What matters, though, is the style of the bikini. For curvy girls who need some tummy control, I would opt for a bikini with a higher waist, whereas if you have larger thighs, I will go for a full brief bottom or one with fuller legs. For the top, depending on your breast size, you may need to choose a bikini top that offers a little more coverage and some good underwire support. I usually love the halter neck bikini top styles for ladies who are bustier.
Tankini – Not quite sold on the bikini idea, well why not opt for a tankini, which is still a two-piece style but offers much more coverage, paired with a higher waist? Bikini bottom.
Swim Dresses – Something that I quite love to wear is the swim dress. I find that it hides your tummy and larger thighs and looks so feminine and cute to wear.
---
Features of a Good Swimsuit for Curvy Women
Materials – Most swimwear will consist of either polyester, nylon, polyamides, with a blend of spandex or elastane for stretch.
Design – As we have discussed, there are various designs that work quite well for curvy ladies, including the bikini, full swimsuit, One Piece Sporty swimsuits, tankinis, and the swim dres' design.
Closure – Most swimsuits are pull-on designs, with the expectations of bikini tops that may have a clasp or hook closure at the back and tie top straps.
Fit – Look for a fit that says curvy, and if you are on the plus side, opt for the plus-size ranges.
Options – Swimsuits for curvy ladies come in a variety of colors, patterns, and prints, as well as both standard and plus size, size options.
---
Reviews: Best Swimsuits for Curvy Women
In our extensive review we have some of the best designs of swimsuits that are ideal for curvy ladies;
---
1
Here we have an elegant and vintage-inspired monokini for curvy ladies that is also available in plus size options.
The swimsuit is an elegant vintage design monokini.
It is available in plenty of colors and prints as well as plus size options.
The fabric consists of polyamides and stretchable elastane.
It is an excellent quality one-piece design that flatters the curvy lady.
---
2
The Cocoship Retro Boho Swimsuit has a chic design and high waist, which helps to flatten your tummy.
The swimsuit is a bikini with a high waist bottom that flattens your tummy.
It is available in standard and plus sizes as well as more colors and prints.
The swimsuit consists of nylon and elastane for elasticity.
The design is more retro and boho.
---
3
The Miraclesuit for curvy ladies has a tummy control bottom and top with an underwire.
The Miraclesuit has excellent tummy control and an underwire bra for full support.
Ideal for plus-sized curvy ladies and available in larger sizes.
It is nylon and lycra spandex with a durable design.
There are also more color options available.
---
4
From American Trends, we have a tummy control swim dress that is ideal for curvy ladies.
A One-piece design swimsuit that has a dress bottom which is flattering for curvy ladies.
The swim dress is available in more solid colors and prints, as well as larger size options.
It is comfortable and flattering for the curvy lady.
The dres's design also helps to cover up larger thighs and tummies.
---
5
The Cocoship Sailor design is a one-piece swimsuit dress that is flattering for curvy ladies.
Another gorgeous swim dress.
The design is a retro vintage pin-up girl design with a halter neck.
It is a flattering and elegant swim dress for the curvy lady.
More colors and plus-size options are likewise available to you.
---
6
Curvy Kate designs swimsuits especially for ladies on the curvy side.
Here we have an elegant full one-piece swimsuit for the curvy lady.
The design creates the look of an hourglass figure.
It is Nylon, polyester, and elastane for your comfort.
There are more colors and plus sizes available to you.
---
Index Table: Top Rated Swimsuits for Curvy Women
---
---