The Underwire bathing suit is not just a bathing suit or bikini top that mimics a bra anymore. Underwire bathing suits come in so many styles and variations that are fashionable and comfortable to wear.
What I love about the best underwire bathing suit is the fact that it provides good support, especially if you have larger breasts or are a more mature lady.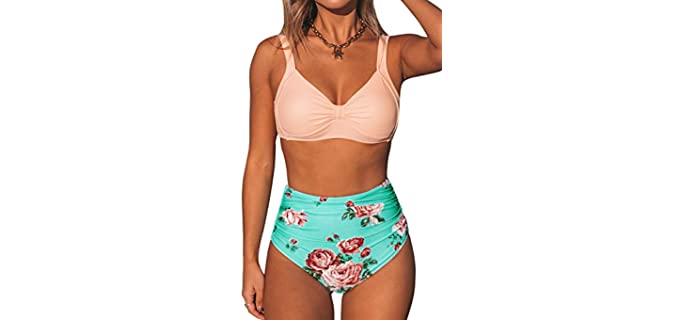 ---
Who Should Wear an Underwire Bathing Suit
So why exactly should you rather invest in an underwire support bathing suit or bikini?
Underwire Bathing Suits Enhances Your Breasts – The Underwire bathing suit provide a slight lifting effect to your breast that can add a little bit of volume and also make them look more perky. It creates a more balanced look for ladies who have larger or even smaller breasts.
Underwire Bathing Suits are Available in Many Styles – Underwire bathing suits are an extremely versatile piece of swimwear. They actually work well for ladies with any bust size or shape, and especially for older ladies, where gravity has started to take its toll a bit. They come in a variety of styles, colors, necklines, and strap options.
Underwire Bathing Suits are Ideal for All Activities – If you have ever had a bikini top or bathing suit slip off while swimming or playing volleyball on the beach, then you know the struggle with these. An Underwire bathing suit provides so much more solid support and a good fit that it will not slip off as easily or shift around. Thus, they are the perfect choice for water sports and activities.
Underwire Bathing Suits Provide the Best Support – The Underwire bathing suit provides the absolute best support for small and large breasts. Their straps also provide better weight distribution and support.
Underwire Bathing Suits Provide Good Definition – The shape and definition that an underwire bathing suit provides are unparallel. The contoured and shape your breasts and have a slight lifting effect. For small breasts, they can add some volume, and for larger breasts, they will give shape and additional support.
---
Types of Underwire Bathing Suits
When it comes to Underwire Bathing suits, you get bikini style tops with underwire support as well as one-piece swimsuits that have underwire support;
Most Bikini tops will have underwire support and can have a range of strap styles such as spaghetti straps, solid thicker straps, or halter neck straps.
You also get sports tops and tankinis that come with underwire support.
Today many one-piece swimsuits may also have underwire support in the top area.
Some underwires support bathing suits may be padded to create some additional volume if needed.
---
Features of a Good Bathing Suit with Underwire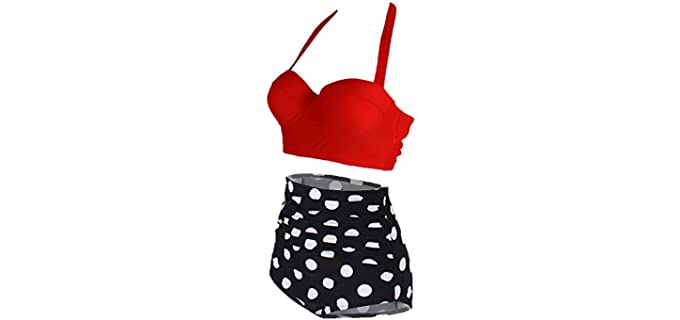 Materials – Bathing suits can consist of a range of materials such as cotton, polyester, nylon, spandex, lycra, elastane, and other breathable and water friendly fabrics. They are generally quick-drying and very durable for use in water. A new fabric that has come to light is Chinlon which is usually used with spandex or elastane to add stretchability. Most fabric used in swimwear is very durable and stretchable to withstand use in and out of the water, as well as UV light.
Designs – Underwire bathing suits come in different styles, such as a one-piece swimsuit, bikini, and tankini sets. They all have a supportive underwire at the top. The underwire design is ideal for women with larger breasts as well as for older women where gravity has taken its toll in order to provide support and some lifting effect. For smaller breasts, the underwire will add some volume, particularly the padded options. Most Underwire support swimsuits will have padding that you can remove if they do have padding.
Options – Underwire Bathing suits are available in a variety of styles, colors, and prints, reliant on the brand. Most brands also offer plus and standard sizes.
---
Reviews: The Best Underwire Bathing Suits
---
1
The Miraclesuit swimsuit has a molded underwire bra and slimming design.
The swimsuit is a nylon and lycra spandex material.
It has Miratex fabric that provides all over body control for shaping and slimming.
It comes in a few solid colors available.
---
2
The Zaful Swimsuit has a push up underwire top and a high cut bikini bottom.
His is a stunning bikini with proper underwire support and full cups.
There are a few colors available to you as well as more size options.
The bikini consists of stretchable and durable spandex and nylon materials.
---
3
From Amouri, we have a Vintage design polka dot two piece swimsuit.
The Top has full underwire support and a hook closure.
The bottom offers fuller coverage and has a high waist that slims down your tummy.
There are plus and standard sizes available, as well as more print ad color variations.
---
4
The Cupshe High Waist Bikini has an Underwire support top.
The design has a print knot and a high waist bottom, with an underwire support in the top.
Plus, and Regular sizes are available to you so that you can get a perfect size and fit for your body shape and size.
There are also more solid colors and printed options from which you can choose.
---
5
The Anne Cole swimsuit is a tankini set that has an underwire in the top.
The tankini top is a plus size option that is available in plus sizes only.
The top has an underwire for better support and more coverage.
The cups are padded, and the padding is removable.
There are also more colors and prints available from which you can choose as a personal preferenece.
Please note that this is the tankini top only.
---
6
From Freya, we have the Deco Underwire Molded cup one piece swimsuit.
This gives you the option of wearing a one piece swimsuit with the support of an underwire.
The swimsuit is available in two colors only, unfortunately.
It is Polyamide nylon and elastane and a pull-on design, which is quick and easy on and off with no clasps or straps that can loosen.
---
Index Table: Top Rated Underwire Bathing Suits
---
---