There is absolutely no such thing as the perfect body type or shape. Everybody shape and type are unique and perfect in their own way, with their own flaws and beauty aspects.
The same goes for the pear-shaped body. Finding the best swimsuit for a pear-shaped body should not be too difficult if you know what you are looking for.
That is why we will help you find the best swimsuits for pear shapes that are available today.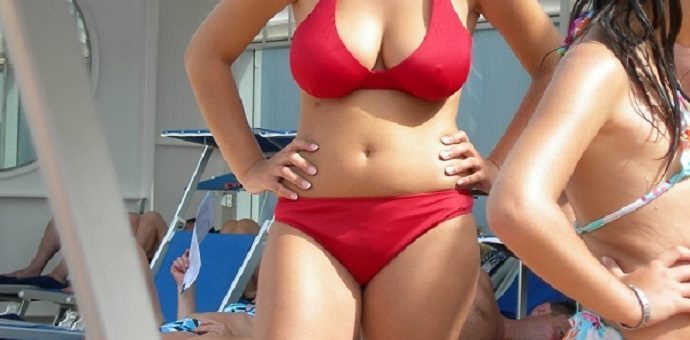 ---
What is a Pear Shape
But before we get into some swimsuit types for ear shapes, we need to understand what the factors are that we need to work with.
A pear-shaped body generally means that your lower half is larger than your upper half.
Your shoulders may be narrow, and your breasts on the smaller side, with slender arms and a smaller waist.
The hips but and upper thighs may be much larger or wider in shape with a well-defined curvy bottom and generally larger legs. There are many variations to this shape as each body is different. But in the end, you get the idea.
What you will need to do with any clothing item is to create a balance. Commonly, we all aim for that perfect hourglass figure with large breasts, a round bottom, and thinner legs, and a slim waist.
So based on this idea, we want to create more interest in the top half of your body, add some more bulk and curves, and tone down on the bottom half of the body.
This can easily be created with swimsuits as well.
---
Choosing a Swimsuit for a Pear-Shaped Body
The trick in choosing the best swimsuits for a pear-shaped body is to get the upper and lower half of your body in perfect proportion.
In order to do this, you need to look t these swimsuit options;

One Piece Swimsuits – Look for a one-piece with eye-catching necklines and plenty of detail and fuss at the too. Also, opt for plenty of coverage and darker, more solid colors at the bottom and waist area.
Tankinis – Tankinis are an excellent choice where you have a tank top with colors and patterns for the top and a full cover solid or darker colored bottom.
Bikini Tops – Most pear shapes have small to medium breasts. For this, a bandeau or strappy bikini top will work well. Look for padded and push-up type tops with colors and bold patterns or ruffles to create some volume.
Bikini Bottoms – High waist bottoms add coverage and control tummies if you have one. High waist bottoms also create more of an hourglass figure appeal and help to slim down your hips. You can opt for fuller coverage on the legs or even a pair of board shorts or a nice sarong.
What to Avoid – Avoid any bold colors, ruffles, embellishments, belts, or other details around the waist and hip area. Also, do not opt for bottoms with a horizontal low waistline or side ties. Stay clear of bold prints and colors on your bottoms as you want to direct attention to the top area and away from the bottom.
---
Features of Good Swimsuit for Pear Shapes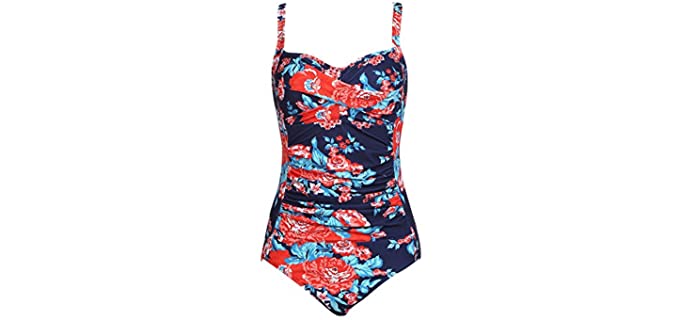 Materials – Swimsuits for pear shapes can consist of materials including Chinlon, nylon, polyester and spandex or elastane for stretch.
Design – swimsuits for pear shapes, maybe a full swimsuit, tankini, or certain designs of bikinis.
Closure – Most swimsuits are pull-on, or have zip closures. Bikinis may be clip or tie closure types.
Fit – The fit needs to be snug and comfortable. You may need to opt for separate bikini top and bottom options.
Options – Options available are standard and plus sizes, along with more colors and prints depending on the specific brand and model of the swimsuit.
---
Reviews: Best Swimsuits for Pear Shapes
These are some stunning swimsuit designs that will absolutely flatter any pear-shaped body;
---
1
The Cococship retro is a one-piece backless bathing suit that is ideal for pear-shaped figures.
It is a nylon and elastane swimsuit that is machine washable.
The cups are padded with removable padding, and the bottoms are a high-waisted design and fuller coverage.
The swimsuit is available in many more colors and prints, as well as plus and standard size options.
---
2
The Cupshe swimsuit for pear-shaped ladies is a stunning two-piece design.
The Top has ruffles and lighter colors to add some volume.
The bottom is a darker and more solid color to enhance your curves.
The bikini consists of chinlon and spandex materials that are soft and durable.
The cups are padded and have a lifting effect.
Plus size, standards size, and more colors are available to you.
---
3
The American Trends swimsuit is a sporty two-piece swimsuit for pear-shaped ladies.
It is a piece of high-quality fabric and stretchable.
There are more color prints and a variety of size options available.
The bottom offers good coverage with a high waist and fuller legs.
The top is a push-up design with detailing to create the illusion of larger breasts.
---
4
Another great design from Cupshe for pear-shaped ladies.
This is a one-piece swimsuit that has a V-Neck and ruffled top design with a regular bottom.
You can wear a sarong or swim shorts with this swimsuit for some added coverage.
It is available in more colors and consists of chinlon and spandex materials.
The swimsuit is also available in standard and plus-size options.
---
5
From Seafolly, we have a Twist Front One-piece swimsuit.
The bottoms have a boyleg design for more coverage, and the top is a twist front with soft cups.
The swimsuit is nylon and elastane, with availability in more colors as well as size options.
The clean lines and classic details are ideal for a pear shape figure.
---
6
From Cupshe, we have a One-piece two-tone design swimsuit.
I love this idea because it creates more of an hourglass figure type.
The top has printed and lighter colored elements, while the bottom is a solid and darker color with good coverage.
The swimsuit consists of durable chinlon and spandex materials.
It is also available in more colors and more pus and standard size options.
---
[/super_product]
Index Table: Top Rated Swimsuits for Pear Shapes
---
---