As swimsuit weather creeps closer, we are all reaching for our favorite bikini or swimsuit or even purchasing new ones. For us ladies over 40, this may not be the most exciting thing, and we often worry about many aspects of our bodies that may not be as attractive as they used to when we were younger.
Every lady has a different body shape and concerns, especially when we get older.
Therefore, in this article, we will look at the most flattering swimsuits for over 40.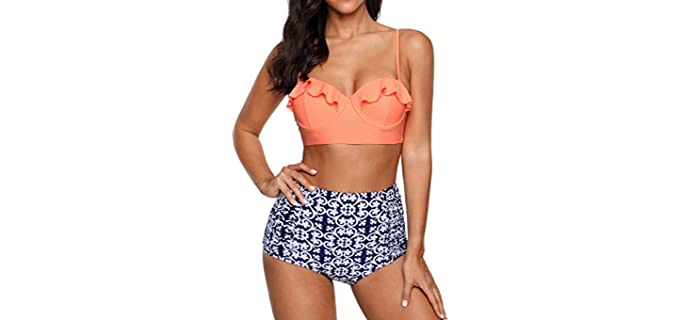 ---
Swimsuits for Women Over 40
Most of us have some challenges when shopping for swimsuits, which gets worse as we get older.
Revealing so much of your body with all its flaws and imperfections, as well as finding something comfortable and supportive for the girls, can be quite a daunting task.
For ladies over forty, gravity has taken its toll. Having children may have left some scars and stretch marks, and our weight may not be the same as when we were young.
Then there is also the body shape factor which comes into play when you need to find something flattering and comfortable to wear in a swimsuit,
It may take some trial and error to find something that you can feel comfortable and confident in. As with most other garments, you will get what you pay for. As we age, quality becomes more important, so if you find a swimsuit that you like, you also want it to last a couple of years.
There are a few brands that do a good job at providing quality swimsuits that ensure proper coverage and support for older ladies. So let us explore that a bit more.
---
Choosing a Swimsuit According to Your Body Type
Firstly I want to help you choose a swimsuit for your body shape and issues, which will help provide the proper support and coverage you need;
Bust Size – Bust support is important when you are over 40, no matter your bust size. For a Full bust, look for bikini or swimsuit tops with underwire support and thick shoulder straps. A V-Neck Neckline or halter top will flatter fuller breasts. Avoid padding, push, and skinny strap tops or swimsuits. For smaller breasts, you can add some padding and opt for a push-up bikini top or swimsuit to lift and add some volume. Choose tops with ruffles, prints, and horizontal lines on top to create some volume.
Plus Sizes – If You are a plus-sized over 40 ladies, you will need to choose a swimsuit that fits, firstly, and that flatters your fuller figure. Look for plus-sized options, and do not try to squeeze into a smaller uncomfortable size. Wear bright colors and prints on areas you want to emphasize and dark solid colors on those you want to look smaller. Opt for tummy control or ruching swimsuits or those with panels that flatten your tummy's appearance. Opt for more solid colors and darker colors.
No Curves – If you have no curves and are on the slim side, opt for swimsuits that will enhance your top and bottom to create an hourglass figure. Tops with ruffles, horizontal lines and prints, and push-up tops or padded tops will enhance your breasts. Bottoms with belts, skirts, ruffles, and prints create some volume in the below area. Here I would opt for a bikini or two pieces rather than a full swimsuit.
Pear Shape Body – In this case, you need to draw attention to your top half and away from your bottom half. So, opt for bright colored detailed and ruffled top areas in your swimsuits and more solid and darker colored options in the bottom.
Round Body Shape – For a Rounder Boy Shape, you will need to do something similar to a body shape with no curves. Here you want attention away from your waist, so wear swimsuits with dark areas in the waist or high-waisted bottoms. Accentuate your top and bottom half. I find a swim dress or tankini with a longer length bottom works well for this body shape.
Coverage or Hiding Areas – If you need more coverage or to hide certain areas of your body, always choose that swimsuit with extra length or coverage in the design for that specific area. For example, for large thighs, opt for longer-length bottoms or swim skirts and dresses. For a larger tummy, try high-waisted bottoms or swimsuits with a solid-colored waist.
---
Features of Good Swimsuit for Over 40's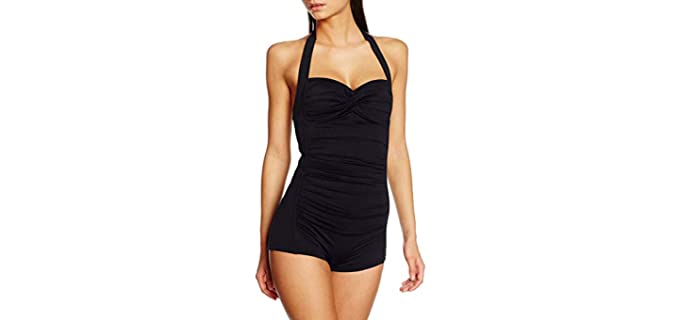 Materials – Swimsuits consist of a variety of materials that are usually water friendly and very stretchable. Nylon, Polyester and spandex are all good choices for swimsuits.
Design – we have chosen some bikinis, one-piece swimsuits, swim dresses, and vintage-styled swimsuits for ladies over 40 years of age.
Closure – Closures for most one-piece swimsuits will be pull on or zip. For bikini tops, they may be a tie or clasp.
Fit – The fit needs to be comfortable and true to size.
Options – Plus and standard sizes are available in most brands, as well as for ore color and print options.
---
Reviews: Best Most Flattering Swimsuits for Over 40
These swimsuits are perfect for ladies over 40, with a choice for every body shape;
---
1
From Cocopear, we have a stunning vintage-styled swimsuit for ladies over forty.
The swimsuit is available in standard and plus sizes as well as more colors and prints.
It is a flattering design for any shape or size.
The swimsuit has a halter top and a skirted bottom for more coverage.
---
2
This is an elegant one-piece swimsuit from Ekouaer.
The swimsuit offers better coverage with a shaping midsection and lifting top.
The bottoms are more closed in style for better coverage.
The swimsuit is available in more colors and prints, as well as plus and standard size options.
---
3
For the ladies over forty, we have a high waist and push-up top bikini set.
The bottoms have a high waist and fuller coverage with solid darker designs.
The top is a push-up and more detailed frilly design.
This swimsuit is the ideal design for ladies with a pear-shaped body.
The swimsuit is available in more colors as well as plus in regular size options.
---
4
The Cocoship, One Piece bathing suit, is feminine and flattering for ladies over forty years of age.
There are a few color and print designs to suit every body shape.
They are nylon and elastane and need to be hand-washed.
The swimsuit has padded cups and is available in many size options.
---
5
The Cupshe swimsuit is a two-piece bikini design for ladies above forty.
The top is lighter with floral prints, and the bottoms darker this is ideal for pear shapes.
The bottoms also offer fuller coverage and have a higher waist.
The bikini is available in more colors as well as plus and regular size options.
---
6
The Retro swimsuit from Cupshe is a one-piece sexy backless design for ladies over forty.
It has a lighter-colored top and darker full coverage bottom for pear-shaped and round-shaped ladies.
This is a stunning vintage design available in regular and plus sizes.
There are also more colors available for your perusal.
---
Index Table: Top Rated Most Flattering Swimsuits for Over 40
---
---