We all have very different and unique body shapes, and finding a swimsuit for your specific body shape is not always the easiest task.
One of the body shapes that we will be looking at today is the shorter torso, or Apple shaped figure body shape.
In this article, we will be discussing which are the best swimsuits for a short torso body shape.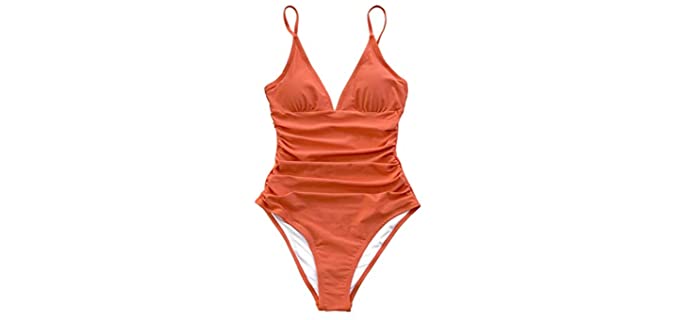 ---
Do You Actually Have a Short Torso?
Have you ever wondered why some clothing styles and even swimsuit styles look so great on others, but on you, they just do nothing for your personal appeal.
This may be because of your unique boy shape. One of the factors that affect your body shape is the length of your waist proportion or your torso.
You will either have a proportioned torso, a slightly longer, or a slightly shorter torso.
To measure your torso, you will need to measure from your underarm area to your waist, where your naval is in the middle. Then you can measure from your waist or naval to your hip bone. If these measurements are similar, you have even proportions, but if the first measurement is smaller, then you are short waisted or have a shorter torso.
Another way to measure if you are shorts waisted is to measure from the top of your head to your crotch and then from your crotch to your feet. If the first measurement is shorter, then you have a shorter torso.
So, what does it mean to have a shorter torso. Well, it just means that your legs are a bit longer in proportion to your torso and nothing much else. You are just a unique body shape, like so many others, and will need to choose clothing items appropriately.
---
Best Bikinis and Swimsuits for a Short Torso
One Piece Swimsuits for a Short torso – look for colors that are solid and prints that elongate your body, such as vertical stripes. Also, look at the bottom of the swimsuit and make sure it is a low cut or fuller cover design rather than a high cut. The top area can be a wide or thin strap with a halterneck or tie design.
Bikini Bottoms – A high Cut Bikini bottom will elongate your waist area. A mid-cut bottom is also ideal. You can opt for vertical stripes and solid colors to create a slimming effect if needed or lighter solid colors.
Bikini Tops – Bandeau bikini tops actually work quite well for a shorts torso. A halter and tie back bikini top also have a great style for a shorter torso.
Neckline – A V-Neck is an excellent choice to lengthen your torso. Stay clear of round and polo design necklines and rather opt for more open necklines.
---
Features of a Good Swimsuit for a Short Torso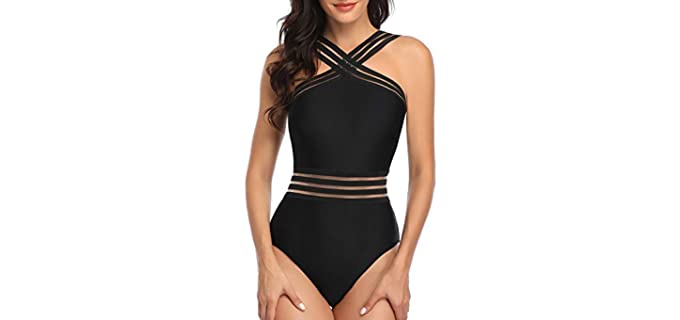 Materials – Most swimsuits consist of materials such as nylon, polyester, lycra, spandex or elastane for stretch. These materials dry quickly and are quite stretchable. Chinlon is likewise a newer material that is coming up in many siwmsuit miodels and brands. The materials should be soft, stretchable and quick drying, with durability to withstand being in and out of water.
Design – Swimsuits for short torsos should have an elongating effect. High waisted bikini bottoms and full swimsuits are ideal. Stripes that are vertical and colored patterns can help to create an illusion of length.
Options – Swimsuits for shorts torsos come in a variety of color and print options, as well as standard and plus sizes. Make sure t select prints and vertical stripes that lengthen your torso and avoid prints that will actually make it look shorter than it already is.
Closures – Most bikini tops will have either a toe or clasp closure, which one-piece swimsuits will be a pull-on design. Bikini bottoms are mostly pull-on designs, although some models may have side ties as a closure or just as decorative detailing.
---
Reviews: The Best Swimsuits for a Short Torso
---
1
The Cupshe Striped One-Piece Swimsuit is ideal for lengthening your torso.
The striped design creates length and also has a slimming effect.
The Swimsuit is available in more color options in similar prints.
It consists of chinlon material and spandex for stretch.
There are also plus and standard size options available.
---
2
The Tempt Me Vintage Two Piece Swimsuit has a retro design and halter neck.
The Ruched High waist has a slimming and lengthening effect.
The Halter Neck top is ideal for narrow shoulders and to create length.
There are more color variations available.
The swimsuit consists of polyester and spandex for stretch.
---
3
The Cupshe One Piece Swimsuit is a tummy control design for a short torso with a bit of a tummy.
The swimsuit consists of polyester and some spandex for stretch.
It comes in many more colors and prints from which you can choose.
It is also available in more standard and plus-size options.
---
4
From Tempt Me, we have a Crisscross One-Piece Swimsuit for a short torso.
The Swimsuit controls a tummy and is designed to create length and have a slimming effect.
It is available in solid and printed options as well as standard and plus sizes.
The swimsuit consists of polyester and stretchable spandex.
---
5
The Cupshe Swimsuit is a bikini that is ideal for a short torso, as it has a lengthening and slight slimming effect.
The Bikini has braided straps and a lace up closure.
It consists of chinlon and of spandex for stretch, which are durable and water-ready materials that also dry quickly.
There are plus and standard sizes available, as well as more color selections.
---
6
The Century Star Tankini has the perfect design and color scheme to flatter and lengthen a short torso.
It is a polyamide and spandex fabric, with more prints and colors available.
The tank top has a lengthening effect along with the boy shorts.
It is also ideal if you need a bit more coverage for your tummy and in the bottom area.
---
Index Table: Top Rated Swimsuits for a Short Torso
---
---