With summer just around the corner, it is time to dig out your favorite swim trunks and head for the beach or pool, or maybe just the backyard for some tanning and sun time.
Yet, through the winter time you may have added a few extra pounds and some love handles that are showing.
Not all of us can get to the gym, and sometimes love handles are just a genetic factor. Whatever the case, we have your back with the best swim trunks for love handles.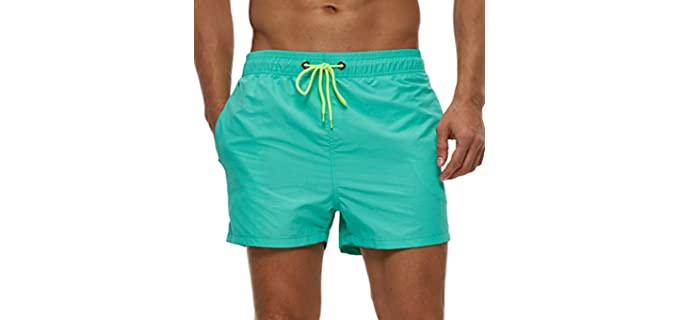 ---
Swim Trunks Style for Love Handles
Love handles just mean that there is more to you to love, hence the name love handles.
This is not a big deal, and there are many styles of swim trunks that can easily hide and even compliment your love handles, so let us look into a few style considerations;
Coors and Prints – If you are a larger guy, then it is advised to opt for more neutral colors and conservative prints than large colorful prints and bright neutral colors. You can still go for color, but rather opt for a darker blue or red than a bright orange or a lime green. Look for swimming trunks with a picture or print that may be on one leg or a pocket rather than the entire trunks. Vertical lines are your best friend. Stay clear of horizontal lines.
Fit – When you have love handles, it is a much better idea to size up rather than down. The extra space in the waistband allows a much more comfortable fit. Also, a tight waistband will squeeze and cause your love handles to bulge out even more. So rather opt for a size up.
---
Types of Men's Swim Trunks
No, let us look at a few of the different swim trunk styles available.
You can choose from any one of them if you follow the two basic considerations that we have just mentioned, and I would advise a higher waist or mid waist rather than something that sits on your hips. Also, elastic waistbands are the way to go!
Speedo – This is the common name given to most swim briefs, they are usually nylon and spandex and very stretchable. They show every curve of your body and are quite tight and revealing. I would generally stay clear of these if you are a bit overweight.
Boardshorts – Boardshorts are your best friend, they are ideal for all shapes and sizes, and they come in so many options. Boardshorts have longer and looser legs, and you will need to opt for ones with an elastic waistband.
Trunks – Swimming Trunks are a mid-thigh length and have a loose fit. They are also ideal given that they have an elastic waist.
---
Features of Good Swim Trunks for Love Handles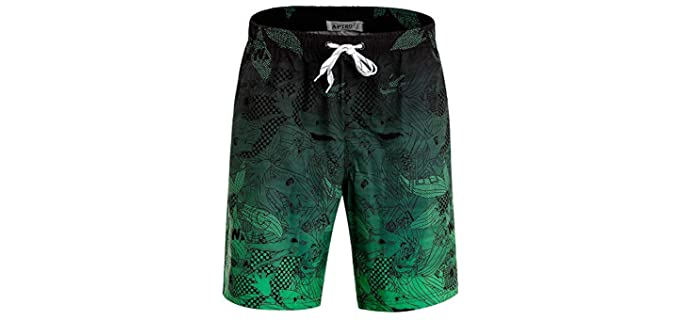 Size – Make sure that you get the right size, especially in the waistband area. You do not want the waistband to squeeze so that your love handles bulge out. Rather opt for a looser fit around the waist.
High Waist – If you can find swim trunks that have a slightly higher waist to sit just above the love handles, it would be ideal.
Elastic or Non-Elastic Waistband – Always opt for the elastic waistband as it allows room to expand and retract. It is much more comfortable and will not squeeze your love handles or slip off if you get a bigger size.
Material – Opt for softer and loose materials such as polyester with stretch materials in the waist and rather than the trunks. This will not cling to your body, exposing bulges and love handles.
---
Reviews: The Best Swim Trunks for Love Handles
In our list, we have some excellent choices in swim trunks for men who have love handles;
---
1
The Tommy Hilfiger swim trunks have the perfect fit and design to hide and reduce love handles in men.
They are available in three very neutral and solid colors that will to attract too much attention to your love handles.
The swimming trunks are 100% nylon with an elastic waistband and a drawstring closure for an adjustable fit.
They are fully machine washable and have slit pockets at the sides.
---
2
The Calvin Klein Swim Trunks have quick-dry materials and are perfect for hiding and preventing those love handles from bulging out.
The swimming trunks are available in solid and printed colors. Whoever, be careful with the prints, as you do not want too much attention.
They are polyester with an interior polyester lining for your comfort.
The Trunks curare fully machines washable.
The elastic waistband is wide and will not squeeze out love handles and bulges.
---
3
The Quicksilver Everyday Volley swimming trunks are perfect for love handles, as well as for beach sports such as volleyball.
They are 1005 polyester and quick drying.
The swim trunks have an elastic waistband and a drawstring closure for an adjustable fit.
They are available in more solid colors and sizes.
---
4
From Kanu surf, we have the Barracuda swim trunks that come in regular and extended size options.
They are 1005 softa in quick-drying polyester,
The elastic waistband and drawstring closure allow for a more comfortable and adjustable fit that will not show love handles.
The trunks have convenient cargo pockets at the side and offer a regular fit.
---
5
The Aptro Swim trunks are a longer length and a board short design.
They have an elastic waistband closure that will not show love handles.
The swimming trunks are UPF 50+ protective and very durable.
They are available in more solid colors as well as some printed options.
---
6
The Speedy swim trunks for men are knee-length and consist f quick-drying polyester.
They have an elastic closure that is ideal for a more adjustable and comfortable fit.
Make sure to size up a bit so as not to show any love handles.
They are also quite lightweight and very comfortable to swim with.
Speedo is a top trusted brand that makes some of the best swimwear and sportswear.
More colors are available at your disposal.
---
Index Table: Top Rated Swim Trunks for Love Handles
---
---