So, it is swimsuit season again, which means shopping for the perfect swimsuit for your teenage daughter.
Now your daughter does not want to wear the same swimsuit styles as she did when she was younger, but still, you also do not want her in those skimpy skin-baring swimsuits and tiny bikinis that most of the much older girls are wearing.
Well, in our article today, we will help you find the best swimsuit for your teenage girl.

---
Best Swimsuit Fits for a Teenage Girl
Firstly when it comes to teens and Tweens, you need to consider the fit and the size of the teenage girl.
Not all teenage girls will fit in adult sizes, so you may need to look for a children's size in a suitable style or specific teenage-sized swimsuits.
There are a few fits and styles that help to emphasize and flatter certain teenage girl body types;
Teenage Girls with a Fuller Bust – If you have a teenage girl with a very full bust and you would rather de-emphasize their bust, a halter neck bikini top will be your best bet.
The Boyish Figure – For teenage girls that have not quite yet developed fully, and may have a bit of a boyish figure, you can select swimsuits that have a flared skirt or ruffles around the hips, which creates a more feminine appeal.
Larger Hips – A young girl with larger hips will need a swimsuit that draws attention upward rather than towards the hips. A lighter printed top and a more solid darker printed bottom will do the trick.
A Larger Waistline – If she has a bit of a tummy, a full swimsuit or tankini should do the trick, and you can always opt for a high waist bottom or tummy flattening ruched designs.
---
Types of Bathing Suits for Teenage Girls
For a teenage girl who wants to show off a bit, there is nothing wrong with a well-fitting bikini that offers good coverage, which could be paired with some boardshorts or a sarong.
If you are more conservative, I will opt for a tankini or a full swimsuit style which can be just as flattering in the right colors and prints.
You can also look at monokini and cut-out swimsuit designs which show just a little bit more without being too exposing.
---
Features of a Good Bathing Suit for a Teenage Girl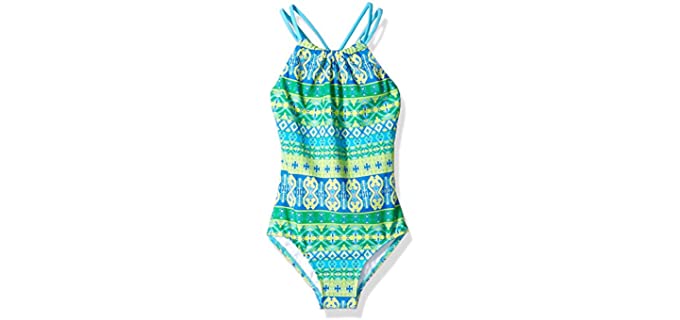 Materials – Most swimsuits for teenagers consist of materials such as polyester, nylon, polyamides, and spandex or elastic materials for stretchability.
Design – Designs such as full one-pieces, tankinis, fuller coverage bikinis, cut-out, and monokini swimsuits are all ideal for teenage girls.
Closure – Most swimsuit styles have a pull-on closure. However, bikini tops may have a clasp at the back and tie around your neck, such as with halter neck styles.
Fit – Look for youth fits or sizes for young girls. Some small and extra small ladies' sizes will also do the trick.
Options – Options are endless when it comes to color and prints, and generally, teenage girls love more fashionable colors and prints, so try to find what is in fashion for that season. Other than that, you can look at smaller adult sizes or children's and youth sizes.
---
Reviews: Best Bathing Suits for Teenage Girls
---
1
Here we have a pink one-piece monokini design that is ideal for teenage girls and available in smaller ladies' sizes.
This is a flattering monokini design without baring too much.
It comes in more colors and has a halter tie-top design.
The color is a block design that is flattering and fashionable.
It consists of durable and comfortable materials.
The legs have a higher cut.
---
2
The Kanu Surf Girls swimsuit is available in sizes for children and teenage girls.
This is a Nylon and Spandex swimsuit which is also quite a chlorine resistant and very durable.
It has a sporty and feminine design with a lined front and back.
There are children's and youth sizes available for smaller and younger teenage or tween girls.
The design is fun and fashionable as well as comfortable to wear.
---
3
From Arena, we have a youth size swimsuit that is also chlorine resistant.
A light drop back design swimsuit ideal for teenage girls.
It comes in youth sizes, and more colors available.
The swimsuit consists of polyester, so it is soft and comfortable.
It allows for a full range of motion and is more sporty n design.
---
4
Something a bit more feminine for teenage girls that is available in small ladies' sizes.
The swimsuit consists of nylon and spandex ideal for swimming in chlorinated swimming pools.
It is a tie knot front one piece with a high waist.
The fit is flattering, and there are more colors and sizes available.
This is an adult size swimsuit, but smaller adult sizes are available.
---
5
The Kanu Surf Girls' Jasmine swimsuit also comes in youth and children's sizes.
A stunning surf style swimsuit for girls.
It is available in smaller youth and children's sizes.
The swimsuit is a halter one piece design, and you can also opt for more color.
It is a durable nylon and spandex with a pull-on closure design.
---
6
This model from Speedo is ideal for teenage girls who swim as a sport.
For sports and competitive swimming, I recommend this Speedo swimsuit.
It is durable and chlorine resistant, as well as a one-piece design.
There are more colors available and sizes for teenage girls.
The seams are reinforced so they will not tear and allows for better movement.
---
7
Comfortable and sporty swimsuit designs from RELLECIGA for young girls in ladies' sizes.
The Bathing suit consists of strong polyamides and spandex for flexibility.
It is an athletic design one piece swimsuit for ladies that is available in smaller sizes for teenage girls.
The swimsuit is durable and offers a tighter fit with a zip closure, which is quite convenient and an easy fit.
There is removable light padding to add some volume and no nasty underwires.
---
Index Table: Top Rated Bathing Suits for a Teenage Girls
---
---