When you have a larger bust, one of the more difficult clothing choices is what swimwear to wear and how to choose the best swimsuits for a larger bust.
If you are one of the ladies who prefer a one-piece swimsuit like me, you should have noticed that they are not always as flattering for a larger bust. This is why I want to help you find the best one-piece swimsuits for large busts that are flattering and fit comfortably.

---
One Piece Swimsuits for Your Body Type
Besides having a larger bust, you also need to consider your actual body shape, as this also has an impact on the design and colors that the swimsuit should have.
Generally, if you are in an inverted triangular shape, which means you are bigger in the top area than the bottom, then you need something that emphasizes your bottom area and that tones down the top.
Similarly, if you are a pear shape with a smaller top frame and larger bottom areas, you need to emphasize the top and play down the bottom.
For more uniform rectangular shapes, you want to create some curves, and with an hourglass shape, you can wear pretty much anything.
Whichever body shape you are, you may want to play down the size of your breasts or show them off, either one is fine, but you will also need to consider sizes and to get a proper fit that will fit around your breasts without being saggy on the rest of your body.
---
Some Swimsuit Styles for Larger Breasts
So here I have added some one-piece swimsuit styles that will flatter your breasts but not make them look larger, and that will also give a more comfortable fit;
Neckline – A V-Neck or Zip front are great options that are flattering and give more space for larger breasts. They are also ideal for triangular body shapes and ladies with broader shoulders or an athletic body shape.
Straps – This is important as larger breasts generally need more support from straps, thus opt for double straps if you go with spaghetti strap designs, a halterneck strap, or wide straps.
Underwire Support – I recommend that you find a one-piece swimsuit that offers some form of underwire support, although this may be quite tricky considering that most one-piece swimsuits don't offer much support.
Bottom Area – If you are a pear shape, opt for fuller coverage at the bottom, if you are athletic build opt for a high cut bottom. Other than the bottom is your personal preference, which depends on how much coverage you need.
Colors and Design – Vertical stripes and darker solid colors make you look slimmer and smaller. In contrast, lighter and bolder colors, prints, and horizontal lines create more volume and interest. Keeping this in mind, you can select a swimsuit that is in two or three color ranges or has prints and patterns in the areas where you need more or less volume.
---
Features of a Good One-Piece Swimsuit for a Large Bust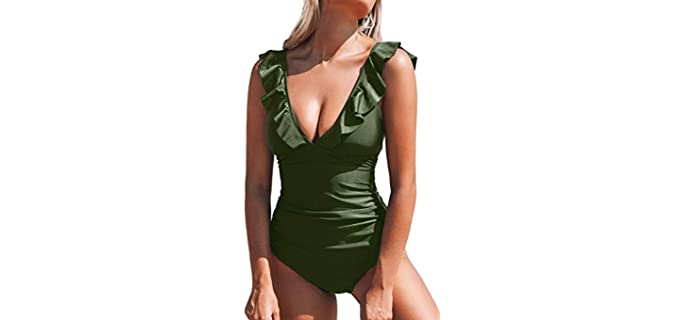 Underwire – Look for s swimsuit that has underwire support for larger breasts.
Straps – Avoid thin or spaghetti straps and rather opt for wider straps and halter neck styles.
Lofting Features – You need good support and slight lifting features in the top of your swimsuit for larger breasts.
Adjustable Straps and Closures – Adjustable straps and closures allow you to get the most comfortable fit.
Materials – Swimsuit materials that are durable and stretchable include polyester, nylon, spandex and elastane.
---
Reviews: The Best One-Piece Swimsuits for a Large Bust
These are some of our favorite choices in one-piece swimsuits for ladies with larger breasts;
---
1
The Tempt me one-piece swimsuit has a high neck plunge design ideal for larger breasts.
The fit is available in standard and plus sizes and many more colors and prints.
The swimsuit consists of durable and water friendly nylon and spandex for stretch.
It has a ruched pattern in the torso to accentuate your curves.
---
2
The Cupshe Swimsuit for large breasts is a V-Nek design that has ruffled detail and a monokini fit.
This design is ideal for balancing out your curves, especially if you have larger breasts.
The swimsuit is chinlon and spandex for stretch, and there are more colors and prints available.
Plus, and standard size options are likewise available to you.
---
3
The Amourri One piece swimsuit is a stunning design for your silhouette and larger breasts.
It has underwire support for larger breasts and a ruffled design that is flattering.
The swimsuit consists of durable nylon and stretchable spandex.
It is available in many colors and prints as well as more size options.
---
4
From sweaty Rocks, we have a One-Piece swimsuit for ladies with a bustier size.
It has a cut out design and zip front, with a monokini fit.
There are more colors and size options available to you.
The One-Piece Swimsuit is Nylon and Spandex with a comfortable elastics.
---
5
The Smismivos swimsuit is a tummy flattening design with a fit for larger breasts, and some lovely color designs.
The padding on the top can be removed for your discretion, as the padding will add more volume to large breasts initially.
The swimsuit has a slimming design and fit, that will flatten your tummy and enhance the appearance of your breast without increasing their volume.
There are also more colors and sizes available, so you can choose for your heart's content.
---
6
The Hobie One Piece swimsuit has an easy front zip opening which is also an ideal feature for larger breasts.
The swimsuit is Nylon and Elastane with two separate colors for the top and bottom, this color scheme creates a more balanced effect and is also more attractive and feminine.
The colors are designed to flatter and enhance your curves, and there are more color variations available to you.
The swimsuit is likewise available in plenty of size options so that you can find the perfect size for your body and shape.
---
Index Table: Top-Rated One-Piece Swimsuits for a Large Bust
---
---