As you have noticed, there are plenty of bikini brands on the market that advertises surfing bikinis.
Well, they may be surf brand names, but a bikini is never the best option for surfing, particularly some of the more modern styles available today.
So, in this article, I want to draw your attention more towards a one-piece swimsuit design for surfing that may just be so much easier.

---
Why Choose a One-Piece Swimsuit for Surfing
In my opinion, surfing bathing suits need to be a completely separate item from regular swimsuits and bathing suits.
Surfing swimsuits are a functional item designed to serve a specific purpose, compared to regular bathing suits worn for beach and poolside endeavors.
When you are serious about surfing, your bathing suit functionality will be much more important to you than looks.
Two of the most important functions of s swimsuit for surfing are that it stays on and durable.
With the waves crashing, and the hours spent in the sea, your tiny bikini will most definitely not stay in place or last very long, for that matter.
That said, one of the best options is a one-piece swimsuit for surfing.
---
Types of One-Piece Swimsuits for Surfing
One Piece Swimsuit – A regular one-piece swimsuit is cool, comfortable, and very easy to come by for surfing. It allows you much more freedom with open arms and legs and will stay perfectly in place, no matter how rough the water gets.
Full leg and Full Sleeve Swimsuit – Actually more of a rash vest design or diving suit, the full leg and arm swimsuits for surfing offer light protection against cold and also offer excellent sun and abrasion protection.
Half Leg and half Sleeve Swimsuit – Like the full leg and full sleeve swimsuit, this suit has half or quarter sleeves and legs and is likewise more of a diving suit or rash vest design. It also offers good coverage and some warmth in very cold water.
Swimsuit with Short Sleeves – This is basically a full swimsuit with short sleeves for shoulder protection against the sun. It is cool and very comfortable, as well as a favorite among many surfers.
Swimsuit with Long Sleeves – Here, we have the one-piece swimsuit where the legs are open, but there are long sleeves. This, in turn, offers better sun protection and is quite a comfortable option.
As you will see with most of the sleeved swimsuits options, they will have a front zip closure, making them easier to put on and take off.
---
Features of a Good One-Piece Swimsuit for Surfing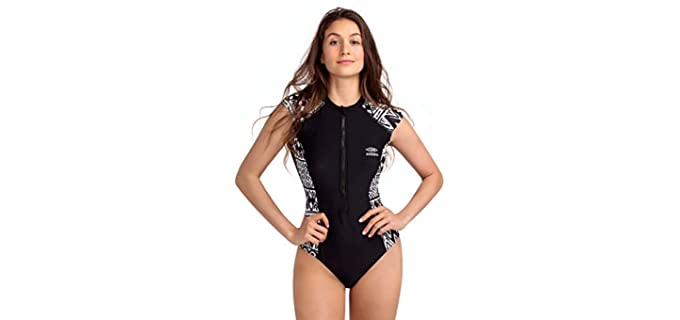 Materials – When it comes to materials thicker nylon and polyesters, with spandex are ideal. You want to prevent rashes and abrasion, which can be painful, so these materials offer more protection. Try to avoid meshes and padded tops which will not stay in place.
Design – The one-piece swimsuit comes in many designs with different levels of arm and leg lengths, so the option here is up to you. Most of these designs are actually rash guards for abrasion and sun protection.
Closure – Most surfing swimsuits have zip closures, or are a pull-on design.
Fit – The fit needs to be snug and comfortable, as you want no loose materials in the way.
Options – Options include standard and plus sizes, as well as print and color options depending on the brand and model.
---
Reviews: Best One-Piece Swimsuits for Surfing
So with no further ado, here is our list of the top, one-piece swimsuits for surfing;
---
1
The Long Sleeve one-piece swimsuit from Century Star is ideal for surfing.
This is a long sleeve rash Guard swimsuit with excellent UV protection.
It has a one-piece design and is ideal for surfing.
There are printed and more color options as well as sizes available.
It consists of nylon and spandex, which are very durable and offer good abrasion resistance.
---
2
Here we have some lovely printed full bathing suits that are sleeveless, ideal for surfing.
This is a sleeveless and legless one-piece swimsuit for swimming.
It comes in some lovely feminine prints and designs from which you can choose,
It has a zip closure and a built-in removable padded bra.
There are also more sizes available to you.
---
3
Here we have another long sleeve full swimsuit for additional sun protection when surfing.
This is a full-sleeved one-piece swimsuit for surfing.
It comes in floral prints as well as more colors and sizes.
The swimsuit offers excellent UV protection and is a durable rash guard.
The thicker nylon and spandex materials are ideal for protection when surfing.
---
4
The Cokar Full swimsuit range offers you some sleeve and leg length options for full sun protection when surfing.
This is a full rash-guard one-piece swimsuit for surfing.
It offers full sun protection and protection against cold water.
It is abrasion-resistant and very durable.
There are a few more color variants available in the basic black design and more sizes.
The swimsuit is ideally designed for surfing and competitive surfing.
---
5
The Wolddress Swimsuit is a full swimsuit and rashguard for surfing.
A full one-piece swimsuit with short sleeves for surfing.
The design is comfortable, cool, and has a zip closure for easy on and off.
More solid and printed color options are available, as well as more sizes.
It is a durable and breathable material that offers guarding against rashes and UV rays.
---
6
The half sleeves and legs of this swimsuit for surfing provide excellent sun protection and are very comfortable.
This is a half-leg and sleeve one-piece swimsuit for surfing.
The design comes in more colors and plenty of sizes.
It is comfortable and durable for surfing.
The fabric offers good abrasion resistance and UV protection.
It is also lightweight and quite breathable.
---
7
A comfortable zip-front one-piece full swimsuit from Evaless for surfing.
Another full-sleeved one-piece swimsuit.
It has an easy zip closure for your convenience and full sleeves for UV and rash protection.
The swimsuit comes in more colors and sizes.
It is a durable nylon and spandex material.
---
Index Table: Top Rated Swimsuits for Surfing
---
---