The High waisted Bikini is a very feminine and classy style that has the superb benefit of flattening and hiding a tummy.
There are quite a few styles of high waist bikinis, modern and even more vintage.
In our article, we look at a different variety of some of the best high waist bikinis.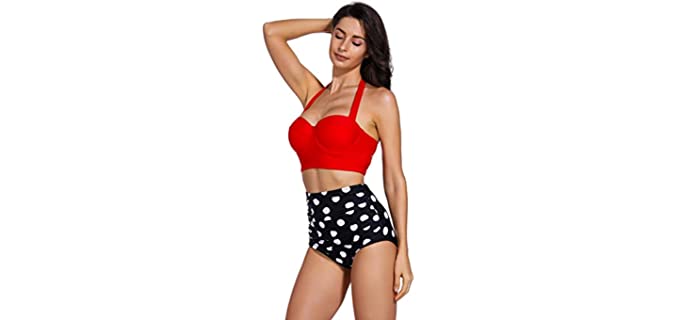 ---
The High Waist Bikini
If you like the classic look of a bikini or a more vintage style look in bikinis, you will love a high waist bikini.
The high waist bikini is basically a bikini with a bottom with a higher waist that fits over your belly button. The legs can be short or high depending on the style, and they come in many different fashion trends.
Especially if you are someone that likes a bathing suit or biking that is a little less revealing than most of the teeny weeny bikinis avail be today, the high waisted bikini offers a bit more coverage and feminine class.
---
Benefits of a High Waist Bikini
There are also quite a few benefits to having a high waist bikini;
They Are Flattering – The High waist bikini bottom smoothes right over any belly fat or sagging skin in the exact area that needs some help. This gives you're a smoother and more flattering figure.
Reduce Irritation – Because of the additional coverage, these sensitive areas of your skin are less likely to suffer irritation from sand and sun.
More Room for Patterns – The larger size of the high waist bikini allows more space for lovely patterns and prints on your bikini bottoms.
Maternity Friendly – The high waist bikini bottom for pregnancy is more stretchable in the waist and offers more coverage and protection.
Comfortable – The High waist bikini is comfortable and will not slip down . The high-waisted fit also feels much more natural.
---
Features of a Good High Waisted Bikini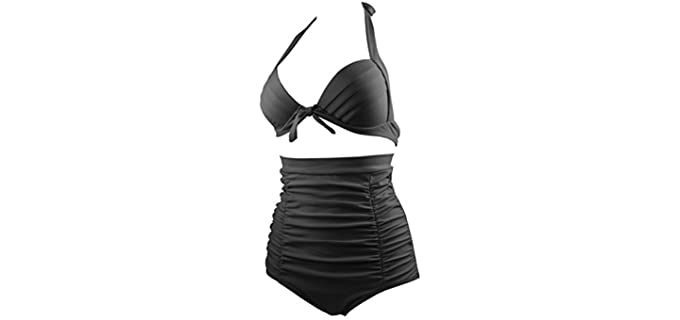 Materials – Most swimsuits and bikinis consist of polyester, or nylon, with additional elastane or spandex for stretch. Some tops may have an underwire or padding that can or cannot be removed.
Design – The design we are focused on is the high waist bikini, which has a bottom with a higher waist that can be many styles. The top is usually a regular bikini top or halter neck. There are modern styles and more vintage pin-up girl styles available.
Closure – The bikini top may be a self-tie closure, with or without a back hook or clasp closure.
Fit – The high waist bottom needs to fit snug and comfortably.
Options – there are plus and standard size options available, as well as more colors and prints, which are reliant on the specific brand and model of bikini that you select.
---
Reviews: Best High Waisted Bikinis
In our list are some stunning brand sand models of high waisted Bikinis of all types;
---
1
The Cocoship Retro 50's Bathing suit is ideal for plus and regular-sized women, and it comes in many retro colors and prints from which you can choose.
This is the retro pin-up style bikini that is still in fashion today.
It comes with a high-waisted bottom and a halter neck top, just as in the old days.
The fit is extremely flattering for ladies and offers good coverage.
There are more sizes available as well as plus sizes and more color sets.
---
2
The Bslingerie Retro swimsuit has a stunning high-waisted vintage bottom and matching bikini top.
Another retro vintage design bikini that stands out and makes a bold statement.
The bottom has a high-waisted design, and the top is a halter neck.
There are more colors in standard and plus sizes available so that you can choose your heart's content.
The swimsuit consists of nylon and spandex for stretch.
It is ideal for swimming and other occasions, such as beach and pool parties or for costume parties.
---
3
The Amourri bathing suit has a very high-waisted bottom and bikini top, with many options available to you.
A colorful and fun high-waisted vintage swimsuit that looks classy and has a unique style that will stand out quite a bit.
The sets come in contrasting colors, and there are many to choose from.
It is also available in standard and plus-size options for every shape and size lady.
The set includes a high waist bottom and a self-tie halter neck top with a clasp hook at the back.
---
4
The Promaska Bathing suit design has high-waisted boy short bottoms and a flattering top ideal for curvier ladies and available in plus sizes.
This is a plus-size option bikini set with a high waist.
There are three available colors in this set and plus-size options, from which you can choose as you wish.
The top is flattering and comfortable and ideally suits the bottom quite well.
The bottom has a mid-to-high waist and full coverage, which is perfect in fit and design.
---
5
An elegant vintage-styled Bikini from Cocoship with a high-waisted ruched bottom.
A stunning solid color high waist bottom bikini set matches any style that is very comfortable to wear.
There are two available color options more than enough sizes for all shapes and sizes.
The top is a halter neck design, and the bottom an extra high-waisted full design, which looks gorgeous when worn together.
The bikini consist of durable nylon and elastane materials that are stretchable and soft against the skin.
---
6
The Zeraca swimsuit is available in larger size options, as well as more solid colors. It a; also features a high-waisted bottom.
A comfortable High waist Bottom bikini set.
The top has a cross-back athletic design bralette shape, which is extremely comfortable to wear, and goes well with the high waist bottoms.
The hipster's bottom is a mid to higher-waisted design that is just the right fit.
It is available in more solid colors and size options so that you can get the perfect fit and match your favorite styles and colors.
The biking consists of stretchable elastane with polyester for softness.
---
Index Table: Top Rated High Waisted Bikinis
---
---