The beautiful apple-shaped feminine body, gorgeous as it is, generally needs some deflection n away from the tummy area.
Getting the best bathing suit for Apple Shapes is what we will be looking at today to give you an idea of swimsuits ideal for your body shape.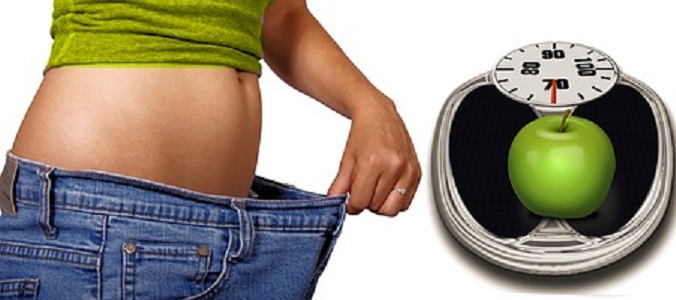 ---
Swimsuits and an Apple Shape Figure
Good underwire tops with thicker straps will give you proper bust support and show off your cleavage beautifully. A patterned Swimsuit with slimming patterns on the tummy area will create a better-balanced look. You can also go for built-in tummy control and high-waisted bottom sets.
Generally, with an apple-shaped body, you want to create a more hourglass figure. This is achieved by using colors, patterns, and swimsuit styles to your advantage that will create a slimming effect to your mid-section.
By enhancing your bust and legs, you can create a more balanced and even silhouette.
---
So What Types of Swimsuits are Ideal?
When it Comes to Bathing Suits for Apple shapes, here are a few do's and don't's;
Top – Tops with much thicker straps and halter neck tops enhance your bust and draws attention to your bust rather than your tummy. A padded top can also add some bulk to your bust if you are on the smaller bust size side. Calm patterns and bright colors create interest without looking overdone. An underwired tankini top is your best friend if you are an apple shape. A good-shaped and fitted Swim dress is also an excellent choice.
Bottom – The High Waisted brief shape bottom is the absolute best type of swimsuit bottom if you have an apple-shaped figure. You can also opt for larger side briefs and bottoms with a design that takes attention off your tummy. Eye-catching patterns and darker colors are ideal. Some bottom models even come with a tummy control panel.
Colors – Colors should be chosen with care. If you choose a full swimsuit or higher bottom, opt for darker and solid colors that create a slimming effect at the tummy area. For the rest of the swimsuit, for example, the legs and bust area, you want to create interest to draw.
What to Avoid – Try to avoid waistbands that are prominent around your tummy, as they increase the appearance or size of your tummy—Frills Tassels and flounces, particularly in the mid-section. Prints and the lighter color of your bathing suit should accentuate your bust and legs and not your tummy. Keep darker solid color in the tummy area.
---
Features of a Good Bathing Suit for Apple Shapes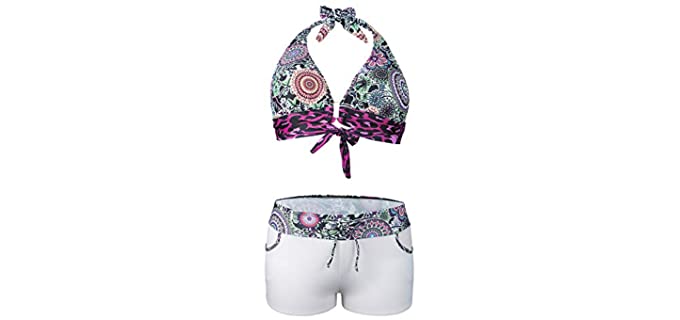 Materials – Most bathing suits consist of polyester materials, which is softer to the touch, nylon, which is more durable and similar to swimsuit materials in general. Spandex and elastane are usually added in small amounts for stretchability.
Design – You can choose from full swimsuit designs, bikinis, high waist bottoms, and tankinis or swim dresses.
Closure – With Bikinis, there will be a pull-on bottom, with a top that has a clasp or hooks closure, and adjustable straps or a self-tying halter neck design.
Fit – Look for a comfortable fit in your size that you regularly wear.
Options – The best options to look for are more solid and darker colors, particularly with swimsuits in the mid-section and bottoms that are high-waisted. If you want to enhance your bust, a more patterned or colorful option will help in this area.
---
Reviews: Best Bathing Suits for Apple Shapes
Here are some of our top favorite Bathing Suit sets that perfectly complement and flatter and apple-shaped figure;
---
1
The design of the Promaska Bathing suit is absolutely gorgeous for plus-sized apple-shaped ladies.
The swimsuit comes in three available colors as well as plus size options.
It is a pull-on design with no underwire in the top and padding that is removable.
The bottoms are a full brief with a higher waist design.
The tops come a bit lower with frills to create an hourglass figure shape.
---
2
The Cocoship Retro 50's Bathing Bikini has the perfect design for an apple-shaped body and comes in many colors and prints.
The swimsuit is available in many colors as well as standard and plus-size options.
It consists of nylon with elastane for stretch.
The top has a halter neck design, and the bottom is a high waist full design.
The style is a Retro 50's theme.
---
3
The Zando Athletic Swimsuit is the ideal swimsuit for ladies that are [petite apple shapes.
A high-quality athletic design swimsuit that flatters an apple shape figure.
It is a two-piece available in more colors, prints, and size options.
The straps are fully adjustable with a flare design top to flatter an apple-shaped body.
The bottom is a high waist fit and a full design.
---
4
The Cocoship Bikini has an elegant Vintage style that flatters an apple shape with a high waist bottom and bikini top.
A classic and elegant style vintage swimsuit.
There is a red and black color option available.
The top is a halter neck fit, and the bottom a high-waisted full brief fit.
The swimsuit consists of Nylon and elastane for stretchability.
---
5
The Actloe Two Piece Swimsuit has a more closed and pleasing design that gives an hourglass shape to apple-shaped figures.
The top here of the swimsuit is a dres's design that tapers and creates an hourglass figure.
The bottom is a longer length fit and a high waist.
The top and bottom are contrasting with a solid bottom color and colorful top.
You can get more colors as well as more size options available.
---
6
The Amourri bathing suit has a flattering style and elegant features for an apple-shaped lady.
The Bikini set is ideal for most apple-shaped figures and comes in standard and plus sizes.
It is available in many colors and prints.
The top is an adjustable halter neck with an underwire and clasp hook closure.
The bottom has a full design and a high waist to flatten your tummy.
The swimsuit consists of durable nylon and spandex.
---
Index Table: Top Rated Bathing Suits for Apple Shapes
---
---