When you have a larger bust, you would want a swimsuit or bikini top to keep your girls safe and secure while also making them look great.
This mission is not as impossible as it may sound. There are actually quite a few best bathing suits for large busts.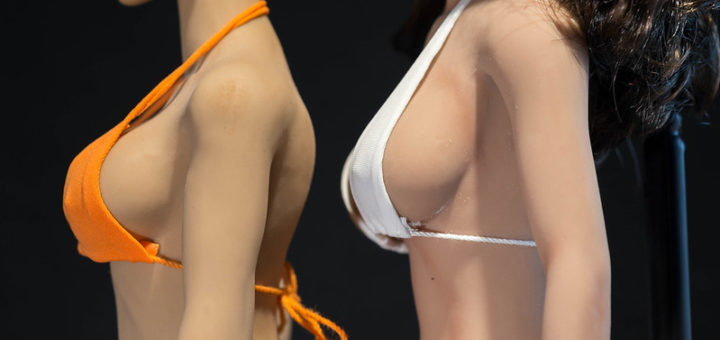 ---
Bust Support in a Bathing Suit
One thing that is very important in a bathing suit for a larger bust is, of course, the proper bust support.
It will help if you are looking for a swimsuit or top that has an underwire or structure that provides good support.
Halter neck design bikini tops are ideally suited to support larger busts.
You can also add your own bust support to your swimsuit or bikini tip. You can stitch boning or a padded cup to the swimsuit top.
---
Best Types of Bathing Suits for Large Busts
It may sometimes feel like swimsuit designers are not catering for ladies with larger breasts and that most bikini tops are flimsy and offer no support.
However, there are a few chic and comfortable styles around that are absolutely perfect for a larger bust.
Bikinis – Show off your luscious bust with a proper bikini. The only thing to look for here is a top that provides underwire support or a solid halt neck design, giving some cleavage. Anyone can rock the right type of bikini.
Tankini – The Tankini is an excellent middle ground between a bikini and a full swimsuit. The right tankini will have wider straps to support your breast and some underwire or other form of support.
Halter Tops – Halter style bikini tops, especially those vintage pins up styles, are and an excellent choice for a larger bust. You can adjust the self-tie straps and wear them as loose or as tight as you need for added support.
One Piece Swim Suit – The simplistic cone Piece swimsuit is also a perfect design for a larger bust. Make sure that it has some sort of underbust support ad that you get the correct size option.
Swim Dresses – For more coverage on your lower half, the swim dress is the most flattering and feminine design. They also usually have a supportive top that caters to larger breasts.
---
Features of a Good Bathing Suit for Large Bust
Materials – Swimsuits usually comprise either Nylon and Polyester or a blend of the two, with spandex or elastane for stretchability.
Design – As we have discussed, a regular supportive bikini, tankini, or halter neck top is ideal, as well as a full swimsuit or swim dres' design. These are all great styles for larger breasts, but you will need to look for good under bust support, whichever design your choice.
Closure – Depending on the type of swimsuit, it may be a pull-on closer or a have a self-tie or clasp closure such as most bikini styles.
Fit – The fit is usually available in standard and plus sizes, which you need to choose according to your size.
Options – Most bikini, and swimsuit designs depending on brand and model to offer size, as well as color and print options.
---
Reviews: Best Bathing Suits for Large Bust
In our list below, we have some ideal swimsuits for ladies that have a larger bust size;
---
1
The Cupshe Bathing Suit is available in larger cup sizes and also has adjustable straps.
The Lace-up bikini is available in larger sizes for larger breasts.
The lace-up bikini top ideally accommodates larger breasts.
It is a nylon and spandex material that stretches.
There are also more colors and prints available to your liking.
---
2
The Sysea swimsuit has a halter neck design and is available in larger size options for larger breasts.
The Bikinis set comes with a halter neck top that has removable padding,
The top has a push-up design for larger breasts.
The set consists of durable polyester nylon and stretchy materials.
It is a comfortable body conditioning design.
There are also more solid color options available for your perusal.
---
3
The Cocoship Retro 50's Bathing suit comes in plenty of size options to accommodate larger breasts, with a style ideal for flattering a sizable bust.
This is a more Retro vintage design bikini.
The high-waisted botos flatten your tummy and provide better coverage.
There is a halter neck top that supports larger breasts, and the set is available in plus sizes.
It is a polyester-spandex blend that is soft, durable, and flexible.
The top can be fully adjusted as needed.
---
4
The Promaska Bathing suit design caters to plus-size women and larger busts, and there are three solid colors available.
The Set includes a high-waisted bottom and a longer length top.
There are plus sizes available for larger breasts and curvy ladies.
The set comes in three bold color options from which you can choose.
The top is flattering and very stretchable.
The bottom will flatten your tummy and gives fuller coverage.
---
5
The Cocoship Bikini is elegant and vintage styled and available in larger sizes to accommodate larger breasts.
A gorgeous vintage design set for ladies with large breasts.
There is a red and black color option available, as well as more color options.
It consists of nylon and elastane materials.
The bottom is a flattering high waist with a full cover at the legs.
The halter neck top flatters a fuller bust.
---
6
Because the Amourri offers plus sizes, it also caters to large breasts, and the vintage design is perfect for accommodating larger breasts.
The Bikini set comes in more colors, prints, and size options, so you can easily choose your ideal style and a fit that is perfect for your shape and size.
The Top has a halter neck fit that is adjustable for a bigger bust, with a hook clasp closure at the back that will fit comfortably and snugly.
The bottom covers well and has a higher waist to keep your tummy under control if needed. Otherwise, it just looks very feminine and stylish.
The swimsuit consists of nylon and spandex for stretchability and durability.
---
Index Table: Top Rated Bathing Suits for Large Bust
---
---