When you have a few extra pounds in the mid-section, you may feel a bit ill at ease in wearing a bathing suit.
However, with styles available today, there are so many swimsuits available that will give you the flattened tummy look and flattering silhouette that you crave.
Hiding a tummy is one of the easiest things to do if you have the right swimsuit, so in this article, we will help you get the best swimsuit to hide a tummy.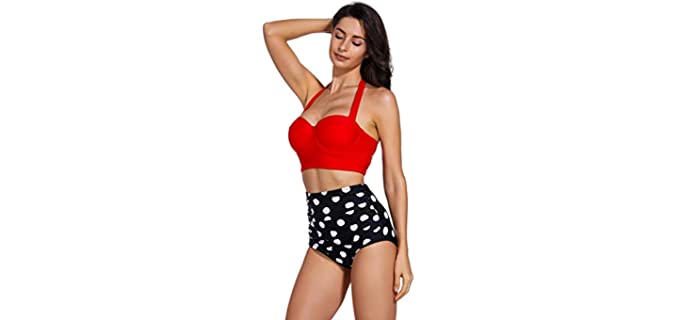 ---
Types of Swimsuits to Hide a Tummy
Firstly, I want to throw a few ideas your way in choosing a swimsuit style that is ideal for hiding your tummy;
Ruching – A full one-piece swimsuit or bottoms with ruching in the mid-section is a great way to hide some belly fat. The fabric design disguises your belly and creates a more streamlined silhouette.
Peplum Tops – For two-piece Swimsuits, a Peplum tankini top that hangs just on the waistline will distract attention from your tummy, as well as hide belly fat ad a muffin top.
Blouson Top – A Blouson Swimsuit to is one of the best and easiest ways to hide your tummy because it bags over your swimsuit and hides your upper's body.
Colors – Solid and Dark colors generally have a slimming effect, so using a solid and darker colored one-piece swimsuit or high waist bottoms is ideal.
Tiered Ruffles – Tiers that wrap around the front and, or the back of your swimsuit or bikini, with ruffles will hide tummy and back fat.
High Waist Bottoms – Always opt for a one-piece swimsuit that has a high waist bottom as this helps to hide and flatten your tummy.
Patterns and Stripes – use bold patterns and prints on your top area to flatter and enhance this area, and more solid patterns and vertical stripes in the mid-section which have a slimming effect.
---
Should Your Buy a Bigger Swimsuit to Hide Tummy Fat?
It would help if you never bought a swimsuit that is big and loose to hide tummy fat as this will only fit uncomfortably and make you look much bigger than you are.
Rather follow the simple tips given, such as opting for a swimsuit with ruching, lower contrast prints and darker colors, and details that draw attention away from your tummy.
Always get your right size, whether it is a standard or plus size, that fits properly and that is more comfortable in general.
The Only instance where you may need to get a size bigger is if you have a much longer torso.
Make sure to take a look at the many actual tummy control and tummy slimming swimsuit options that are available to you, as they are designed for this purpose specifically.
---
Features of Good Swimsuit To Hide a Tummy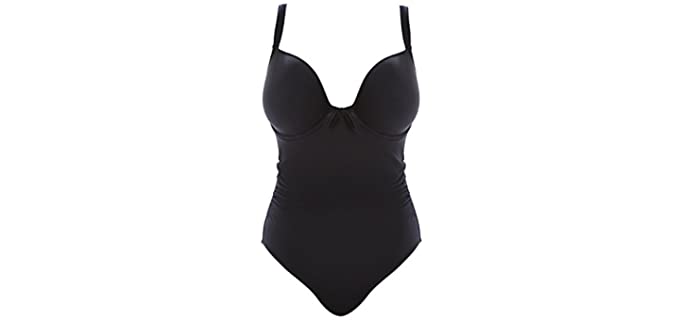 Materials – Swimsuit materials include polyester, nylon, lycra, spandex and elastane. These materials are generally stretchy and are quick drying, as well as durable enough for water use. Chinlon is another very reliable and comfortable material used in some swimsuit brands an models, that is usually blended with spandex or elastane for stretch.
Designs – Swimsuit One Piece in darker colors in the mid-section, with ruched details or vertical lines, are ideal for hiding a tummy. High waisted bikini bottoms and loose fit tankinis are also ideal.
Closures – Most tankinis and one-piece swimsuits will be a pull-on design, while bikini tops may have a toe or a clasp closure.
Options – Options available to you will be reliant on the specific brand and model. You may select from colors, patterns, prints, and sizes available. Plus, and regular size options are also available. Keep in mind that you need to opt for darker and more solid colors in the tummy area or vertical stripes that have a slimming effect on your tummy.
---
Reviews: The Best Swimsuit To Hide a Tummy
Here are some of the best available swimsuits to help and hide your tummy;
---
1
The Cupshe One-Piece swimsuit has a tummy control; design to flatten and hide your tummy.
The swimsuit consists of chinlon and spandex for stretch.
The Two piece swimsuit has a V-Neck and a high bottom that has tummy control features.
The cups are padded for your comfort, and the padding can be removed as needed.
There are more colors available as well as plus and standard size options.
---
2
The Dixprefect Retro One Piece swimsuit has the ideal design for tummy control.
It is a one-piece with the '80s and 90's retro inspired style.
The swimsuit consists of shiny fabric that is eco-tex certified with nylon and spandex for stretch.
More colors and size options are available to you.
---
3
The Cupshe High waist bikini set is ideal for flattening and hiding your tummy.
The two-piece swimsuit has a bikini top and a high waist bottom with vertical stripes that have a slimming effect.
There are more colors available as well as standard and plus-size options.
The swimsuit consists of chinlon and spandex materials.
---
4
The La Blanca Island Goddess swimsuit is a one-piece with a halter neck design.
The bottom area has a design and color scheme that slims your tummy down.
The top has a halter neck design that is flattering.
This design will work very well on a pear-shaped figure.
More colors, plus, and standard size options are available.
---
5
The Cocoship Bikini set has the perfect details and colors to hide a tummy.
The bottom is a high waist ruched design that slims down your tummy.
The top is a tie-back bikini top style.
The swimsuit is a polyester and spandex fabric that is durable and soft.
It is available in more colors and size options.
---
6
This is a fun and colorful bikini set from Licklip that will add some color and flatten your tummy.
The bottoms are a high waist design with stripes that have a slimming effect.
The bandeau top also has stripes and draws attention to your shoulders rather than your tummy.
There are more colors available, and the swimsuit consists of soft polyester and spandex.
---
Index Table: Top Rated Swimsuit to Hide a Tummy
---
---