The dreaded muffin top that so many of us know so well. Well, it does not have to be. With a few easy style tips and the right fit, you can easily hide and flatter a muffin top.
Then again, in the summertime, when the bikini comes out, that little muffin top may not look too friendly, so maybe it is time that you shop for the best bikini for a muffin top. There are so many styles available that are ideal for this issue.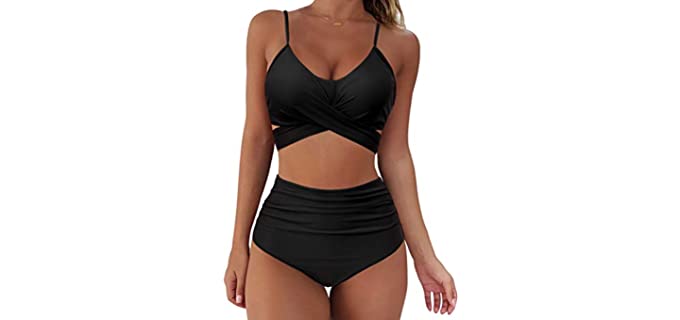 ---
Bikinis for a Muffin Top
One thing I have noted about bikini bottoms for a muffin top is that most bikini bottoms tend to actually dig into your skin and squeeze so that they are creating more of a muffin top than what you actually have.
The fact that we sometimes try to squeeze into tight clothing, such as a pair of jeans, shorts, or bikini tops, not to mention the market that distributes tighter styles, can actually create and encourage a muffin top, more than hat is actually there.
So one of the biggest problems with a muffin top is the fact that we wear clothing that creates and aggravates this issue.
When it comes to bikini bottoms specifically, you need to either get the right size and if your muffin top is still bulging, rather size up one or half a size, as this may actually help.
Secondly, a high and mid-waist should be the only thing that you look for in a bikini bottom for a muffin top.
Also, wider waistbands will not dig into your skin like those thin bikini seams.
If you keep these factors in check, you are already well on your way to get the perfect bikini to hide your muffin top.
---
Tips for Hiding a Muffin Top in a Bikini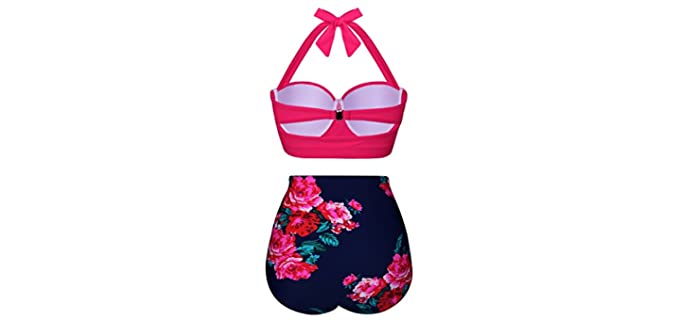 Tankini – You do not always have to opt for a bikini. Why not select a tankini, which has fuller coverage that will hide your muffin top easily.
Play with Color – Use brighter and printed color bikini tops that draw attention away from your bottom area where you have a muffin top. Use darker colors and vertical lines on your bikini bottoms and more solid colors which have a slimming effect, and that does not draw much attention to this area.
The Bikini Bottom – Always opt for high or mid waist fits and look for bottoms with a wide or fold-over waistband that will not dig into your skin and cause your muffin top to bulge out much more.
Bikini Top – The bikini top style will depend on your body shape and whether you have large or smaller breasts. If you want to enhance your breasts, a padded and push-up style is more suitable with lighter colors and prints. For larger breasts, more solid colors are ideal with good underwire supports. The straps also play a role, where you need larger and more solid straps for a broader shoulder frame.
---
Features of a Good Bikini for a Muffin Top
Materials – Bikinis for a Muffin top usually come in a stretchable material. Materials include polyester, a nylon with lycra, spandex, or elastane for stretchability.
Top – The Bikini top can have wide or strappy bands with a clasp closure or toe closure in a leatherneck style. Most bikini tops for larger breasts should have underwire support. However, if you have smaller breasts, this is not required. Look for bright and printed colors to draw attention away from your muffin top.
Bottom – The Bottom is what is important to hide a muffin top. Always opt for a darker shade or solid color bottoms with a mid to high waist. You also get tummy control bottoms that help to flatten out a muffin top.
Fit – Bikini bottoms that are too small will push your tummy and back upwards, creating a muffin top, so rather opt for a larger or proper fitting size.
Options Available – The Bikinis that we have featured for a muffin top are mostly available in larger size options as well as standard sizes. There are also prints and colors available reliant on the specific brand and model.
---
Reviews: The Best Bikinis for a Muffin Top
These are your best choices in Bikinis to Hide a Muffin Top;
---
1
The Sporlike High Waist Bikini is designed to support a fuller bust, And to accommodate for a muffin top.
The Bottom is a floral print and high waist that hides a muffin top.
The Top is a solid color with proper support and ruffles detail.
More color variations and size options are available to you.
The top has a V-neck that flatters all body shapes and types.
---
2
The Cocoship retro Boho Flounce Falbala Bikini set is ideal for ladies with a bit of a muffin top.
The Tip has a halter Necktie, and ruffles, and solid colors.
The bottom is a retro high waist design with prints or stripes.
The swimsuit consists of nylon and elastane materials.
There are also many more color variations from which you can select.
---
3
The Angerella Vintage Bikini set has the perfect design to hide a muffin top.
The Top has a hook and eyelet closure and halter ties at the back.
The bottom is a high waist design.
There are printed ad solid color options available.
The bottoms have ruched details to hide a muffin top.
---
4
The Telaura Bikini set comes in many colors and variations from which you can choose.
The bottom is a solid color and high waist to hide a muffin top.
The Top is printed and has flared sleeves to keep attention to your upper body.
It consists of polyester and spandex materials.
The bikini set is ideal for pear-shaped bodies and ladies who have small frames.
---
5
The Suuksess Wrap Bikini is a push-up design bikini with a high waist bottom.
The higher waist bottom keeps a muffin top under control, while the push-up top draws attention to your fuller breasts.
The ruched bottom also offers excellent tummy control and hides a tummy.
There are more colors and plenty of plus and standard size options available.
---
6
This another gorgeous vintage-style bikini from Cocoship that is perfect for hiding a muffin top.
The bottom is a very high waist design that is slimming and hides a muffin top.
The top has a bac clasp tie and straight thin straps.
The top is a solid color, and the bottoms are printed.
More colors are available, there are also regular and plus sizes available.
---
Index Table: Top Rated Bikinis for a Muffin Top
---
---